I don't think of myself as a vain or prissy sort of guy, but I have a mildly weird obsession with finding the right barber.  Whenever I move to a new city, I'll keep trying new places until I find exactly the right dude who makes me look tolerably clean.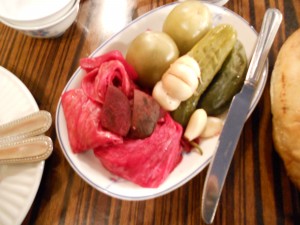 For whatever reason, I had one hell of a bad time finding a good barber in New York when I first got here.  I've had my hair cut by at least eight different guys within a ten-block radius of Tudor City.  The interesting part?  Every single one has been a Russian-speaking Jew from somewhere in the former Soviet Union.
Some of these guys have been better barbers than others, but nearly all of them have taught me some fascinating things about Jewish history, Russian history, Uzbek history, and/or New York City.  Here are a few of my favorites:
China is home to the Kaifeng Jews, a tiny group that managed to preserve their traditions from the 12th century onward, despite being completely isolated from other Jews until the 18th century.
About 300,000 Bukharian Jews, who speak a dialect of Persian, survived several centuries of on-and-off persecution in central Asia, primarily near the Uzbek city of Bukhara.  All but a few hundred of the Bukharian Jews abandoned central Asia in the 1990s, and roughly 50,000 of them settled in Rego Park and Forest Hill.
Rego Park is affectionately known in some circles as "Queensistan," thanks to the immigrant population.
Rego Park is home to several restaurants that serve Bukharian food, which is, from what I can tell, f*cking awesome.  (More on that later.)
Rego Park is also home to Wiggles, which is possibly the best-named Gentleman's Club in NYC.
In addition to having the second-largest Bukharian Jew population in the world, Rego Park probably has the largest population of Russian-speaking barbers outside of Russia.
Barbers and stylists often work under pseudonyms–the hair world's equivalent of pen names (scissor names?).  My favorite barber, a Russian who spent much of his childhood in Israel, introduced himself as "Steve."  My fiancé's stylist is a Kazakh who goes by "Turbo."  Yes, Turbo the Kazakh.  (He's awesome.  My fiancé looks totally hot, even without clothes.)
Thanks to a recommendation by Steve the Russian barber, I spent an evening gorging myself silly on Bukharian food at Tandoori Bakery (not to be confused with Tandoor, a nearby Indian joint).  Tandoori Bakery felt much like a Spanish tapas place… well, minus the Spanish food.  And I guess the décor was nothing like a Spanish place.  And the house band was playing classic Bukharian hits from Central Asia.
But like a tapas joint, Tandoori's menu contains a few full entrees, but most of the dishes are small plates:  salads, soups, breads, appetizers and kabobs, served one skewer at a time.  This was absolutely brilliant, since it gave us a chance to order more plates of food than would otherwise be possible.  My dining companion for the evening was my extremely petite Russian friend, Rimma, who seems to thrive on about 800 calories a day.  No worries, though:  we managed to order five different items at Tandoori, despite Rimma's tendency to eat a few crumbs and then proclaim that she's too full to eat another bite.
(And just so you don't think that I'm hating on poor Rimma:   she deserves huge props for being able to eat pretty much anything.  Stinky fermented fish, organ meats, and head cheese are among her favorite foods, and that makes me love
her like a sister.)
We started with lepeshka ($2), a short, round, crusty loaf of bread baked in a clay oven.  (Now that I think about it, the phrase "short, round, crusty" will probably describe me perfectly in about 30 years.)  We also ordered a pickled salad ($5), which consisted of a delicious mix of vinegarized (I just made that word up—it should exist, right?) beets, cucumbers, green tomatoes, half a head of beet-dyed cabbage, and an entire bulb of raw garlic, also dyed beet red.  Rimma, who loves to brag about how much she "loves stinky food," got really excited by the lightly pickled garlic, crunched on a clove or two, and immediately had enough gastrointestinal burning to suppress her appetite for the rest of the meal.  She also guaranteed that nobody would be kissing her goodnight anytime in the next week.
The bread and pickled green tomatoes were absolutely incredible, and I easily could have gnawed on them all night, without even thinking about eating anything else.  But that would be silly, since there was a huge, 50-item menu to conquer.  We ordered a lamb chop kabob ($4.75 ) which was deliciously charred and fatty, and nearly as large as
Rimma's head.  I'm not convinced that salmon are native to Uzbekistan, but that didn't stop us from ordering a salmon kabob, which was slightly overcooked, but still a nice little snack for the price ($3.99).
But the highlight of the meal was the manty, a giant, thin-skinned dumpling, comparable to Russian pelmeni or a less-doughy version of Polish pierogies.  Tandoori's manty ($5 for three) were filled with ground lamb, onion, and a few flecks with pepper, and then steamed until they became a delicious, slippery, scallion-topped mess.  I felt badly for poor Rimma, who was suffering from painful garlic belches and barely touched her manty; the good news was, I got to eat even more of them.
It wouldn't be hard to convince me that we did a pretty incomplete job of sampling the many wonders of Uzbek and Bukharian cuisine—we didn't get around to ordering pilav (or plov, a variation on rice pilaf, generally considered to be the national dish of Uzbekistan) or lagman (noodle soup).  Next time, we'll bring a few more stomachs—and we'll make them stay away from the pickled garlic.
Wanna read about tasty Uzbek horsemeat at a NYC restaurant?  Click here.  Wanna follow a really boring, overfed food blogger on twitter?  Click here.
Tandoori Bukharian Bakery
99-04 63rd Rd., Rego Park
Subway: 63rd Ave-Rego Park (E, M, R trains)