For most residents of the other four New York boroughs, Staten Island might as well be the moon or Mars or the Midwest, whichever you think is farther. I invited pretty much everybody I know in NYC to join me for Sri Lankan food in Staten Island. All but one of them just laughed in my face.
I think my Manhattanite friends were being a little bit unreasonable: it's not all that hard to get to Lakruwana, one of Staten Island's many Sri Lankan restaurants. I just had to walk to the subway station on a steamy afternoon, spend 30 minutes on the subway, walk a block or two from Bowling Green to the ferry terminal, stand in a big smelly mob of people in front of the ferry gates, ride the ferry for 25 minutes, take the Long Island Railroad a couple of more stops, and then walk another block or two. The whole thing only took about an hour and a half. But there was beer on the Staten Island ferry, which makes it all worthwhile.
And then we had pretty damned good food at Lakruwana, which made it even more worthwhile.
Lakruwana might deserve a prize for being the most interestingly decorated restaurant I've visited in NYC thus far. Nearly every inch of the place is covered with artwork, photos, carvings, and tapestries. Even the bathroom is covered in wise, pithy Sri Lankan proverbs ("associate not with mean men", "there is no fire like lust") and clay masks. (One of the clay masks was clearly trying to sneak a peek at my willy while I peed. Um, creepy.) The menu is taped to the inside of a two-foot-long wooden carving of an elongated face. The dining room was random, interesting, tasteful, and comfortable, all at once… and that's a compliment, especially in the world of inexpensive international food.
The food was pretty damned tasty, too. We started with an appetizer sampler ($6.95), which included an artfully plated array of fried goodies: a fish cutlet, a vegetable cutlet, and masala wade (fritter made from crushed lentils, onions, and green chiles). My personal favorite was the Lakruwana spring roll, a deliciously mushy blend of crumb-fried fish and mashed potatoes, rolled in a thin roti shell and deep-fried with a blend of what the menu called "exotic Sri Lankan spices." Great stuff.
For her entrée, my (non-longfaced) companion ordered godamba roti ($11.95), a carbfest that included a light, puffy rendition of roti stuffed with onions and spices. It was accompanied by several flatter, non-stuffed, roti-like pancakes, just in case there weren't enough carbs on the plate. On the side, she received an absolutely gorgeous bowl of curry vegetables, which included chickpeas, corn, onions, sweet potato, peas, potatoes, and one of the tastiest yellow curry sauces in New York.
But I won the prize with my kottu roti ($12.95), an epic pyramid of sauteed beef, carrots, cabbage, egg, onions, scallions, and ribbons of roti, accompanied by a side of the most ridiculously tasty brown beef curries I've ever tasted. The contents of the pyramid reminded me of an unusually flavorful rendition of pad thai, but with a little bit more spice, a lot more beef and vegetables, and shredded bits of roti instead of noodles. I asked for extra spice in the beef curry sauce, and the good people at Lakruwana didn't hold back—and I loved them for it.
There was only one unnerving thing about Lakruwana: the restaurant was almost completely empty on a Friday night. We lounged around for nearly two hours, and only saw one other couple in the restaurant. Maybe all of Staten Island leaves town on Fridays in the summer. Or maybe Staten Islanders save their Sri Lankan food binges for Sundays, when Lakruwana serves a brunch buffet.
Or maybe people just don't realize how great Sri Lankan food is. It was worth every minute of the trip to Staten Island, no matter how smelly the ferry-riding mobs may be.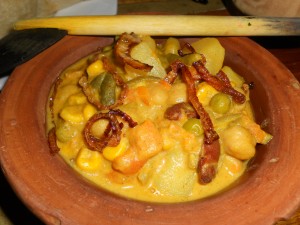 Lakruwana Restaurant
668 Bay Street, Staten Island
Subway: Stapleton (Staten Island Railroad)