Our Dutch evening had the potential to be absolutely epic. The friendly folks at the Netherlands-America Foundation organized a night of Dutch jazz and Dutch food as part of Five Dutch Days, an annual festival celebrating Dutch history and culture in NYC. (Is anybody else impressed by the fact that I just used the word "Dutch" four times in one sentence? I didn't think so.)
The event was hosted at Zinc Bar, a sexy, cozy little music venue in the West Village. And best of all, the website promised Dutch appetizers—including small Dutch meat snacks called bitterballen, which sound delightfully disturbing—prepared by a real Dutch chef. All for $10! Awesome.
The night began auspiciously: when we walked in, our friendly Dutch hosts started us off with free samples of Bols Genever, the deliciously gin-like national spirit of The Netherlands, made from a blend of distilled grains and juniper berries. The evening's entertainment was a sextet of Dutch jazz musicians led by Robert Bosscher and an adorable female vocalist named Fleurine who charmed the hell out of us with her quadrilingual (English, Dutch, Spanish, Portuguese) banter between songs. (Line of the night: "I can't bend over in this dress, or my Dutch apples will fall out." She paused. "And now my face is turning into a red Dutch apple.")
And best of all, there was food everywhere, prepared by a genuine Dutch chef from the Plaza Hotel. It was great stuff: small bites of beef Wellington, miniature spanikopita appetizers, chips and guacamole, sticks of chicken satay, bite-sized fried crab cakes, stuffed mushrooms, and a gorgeous stack of raw vegetables. Our Dutch friends even offered an impressive spread of desserts, including chocolate croissants and something resembling small, elegant cinnamon danishes. All this, and jazz too? For only $10? In Manhattan? Awesome!
Except for one problem: almost none of the food was Dutch, except for the Old Amsterdam gouda cheese. No bitterballen. I've been duped.
It was a fun duping, though. Free Dutch alcohol, good Dutch-accented jazz, great non-Dutch appetizers, plenty of Dutch cheese and a few wayward Dutch apples? Good enough for me.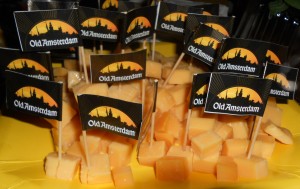 Five Dutch Days NYC, November 2-7, 2011
Organized by The Netherlands-America Foundation