I'm madly in love with the "Little Egypt" stretch of Steinway Street in Astoria.  There are tons of Lebanese, Egyptian, and Palestinian restaurants, accompanied by a dizzying array of hookah lounges, halal butcher shops, bakeries, and coffee shops.  And it's arguably one of the friendliest chunks of NYC:  if you talk to a random stranger on the street, he will almost certainly respond without swearing at you.  Strange, right?
After several great experiences in the neighborhood, I figured that I couldn't go wrong at Little Morocco on Steinway.  Our first visit was reasonably good, but surprisingly uneventful.  We started with bissara, a tasty, blended fava bean soup, sort of like a cumin-spiked version of split pea soup.  We then devoured a lamb tagine (braised lamb shank, $10), a plate of merguez (Moroccan sausage, $9), and a meat kebab combo (lamb, kefta, and chicken, $13), all of which were served with two side dishes.
All of our dishes were large, inexpensive and perfectly good.  None of them were life-altering.  And sadly, Little Morocco doesn't even serve couscous—arguably the national dish of Morocco—on any day besides Fridays.
Realizing that I'd had a solid-but-lamentably-unimpressive Moroccan food experience, I decided to come back on a Friday for some couscous.  I ordered lamb couscous ($12) and chicken couscous ($10) to go, thinking that it was Little Morocco's best chance to knock my (slightly chubby) socks off.
While I waited for my order, I glanced over at the gentleman (let's call him Chef Crammer) who was assembling my couscous.  Chef Crammer was painstakingly cramming as much food as he could into the container.  Not that I'm complaining, but the man appeared to be almost pathologically obsessed with the task of fitting as much food as is humanly possible into the aluminum to-go tins… and couscous, in its diminutive awesomeness, is one of the world's most crammable foods.
Somehow, Chef Crammer managed to wedge an entire leg of lamb into one of the containers.  He then completely suffocated the lamb with a dense brick of perfectly cooked couscous, and then mounded the container with large chunks of carrots, chickpeas, some lightly caramelized onions, and an insanely tasty squash relative.
And just when it looked like the container was full, Chef Crammer spent several minutes looking carefully for any little pockets of unused space.  Whenever he found an empty spot, he wedged in one more chickpea, or another little scoop of couscous, or another chunk of carrot or squash.  I was very impressed by Chef Crammer's impressive cramming skills.
Miraculously, Chef Crammer managed to cram two full-sized chicken breasts with wings inside the other to-go container, and still found room for the same array of vegetables, chickpeas, and couscous.  (OK, I admit it:  I just wanted to write the words "cram" and "breasts" in the same sentence.)  By the time Chef Crammer finished, my two tins of couscous—which cost a grand total of $22—weighed at least eight or nine pounds.  I had a shoulder cramp by the time I got back to the subway.  I am not making this up.  The couscous was delicious, and fed my fiancé and I for… well, a few hours, anyway.  Thank you, Chef Crammer!
And just to make sure that I had some excessively dense desserts to accompany my excessively dense couscous, I lugged my Moroccan treats next door to Jordanian-owned Al-Sham Sweets & Pastries, which offers a mind-blowing selection of baklava and other goodies. I passed on the Western-style cakes and cookies, and ordered a little bit of everything else:  a tightly-packed square of shredded coconut topped with green pistachios; a dense, gooey, honey-soaked square of coconut cake; and some fried cones of dough dipped in honey, among other things.
But my favorites included the mixed nut bar, featuring pistachios, almonds, pecans, and walnuts mounted on a thin layer of shredded phyllo dough, held together by only a thin glaze of honey.  And the real winner was the feisty cinnamon-spiked baklava, which kicked like a mule and bit like a crocodile, despite being crammed into a petite, 75-cent treat.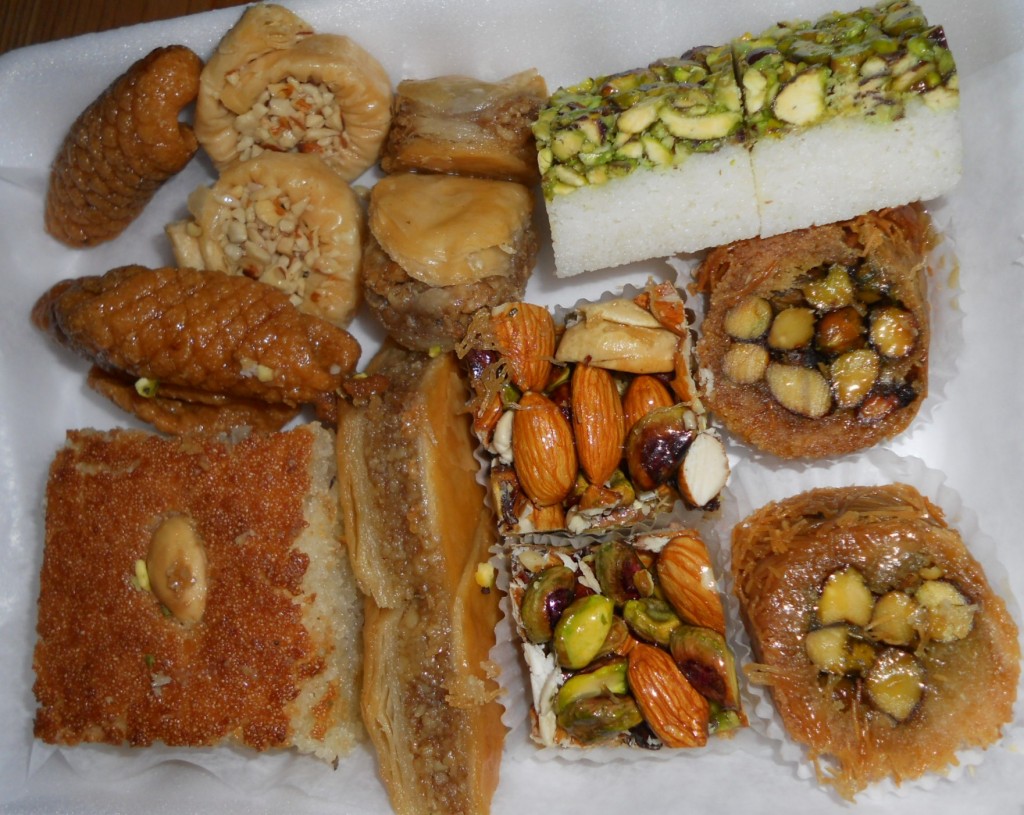 Little Morocco
24-39 Steinway St., Astoria, Queens
Subway: Astoria Blvd. (N, Q trains)
Al-Sham Sweets & Pastries
24-39 Steinway St., Astoria, Queens
Subway: Astoria Blvd. (N, Q trains)