I grew up in a small town in Iowa, where it was easy enough to explore pretty much every corner of the community. There really weren't a lot of surprises in a town of 45,000 people – sure, you could end up in the wrong cornfield or whatever, but was unlikely that you'd ever encounter a completely new community. Communities of livestock, after all, tend to be fairly homogenous.
In comparison, New York City feels almost infinite, and the city has massive ethnic communities that most New Yorkers have never even heard of. Take, for example, the Garifuna: there are somewhere between 100,000 and 200,000 Garifuna – descendants of rebelled slaves who ultimately settled on the Caribbean coast of Central America – in the five boroughs, depending on whose estimate you believe. And if you walk up to a white Manhattanite and ask them where to find the Garifuna, they'll give you a cranky look, hastily gesture toward the nearest Duane Reade, and pretend that something very, very important just happened on their phone.
However, if you ask a friendly Garifuna where to find Garifuna cuisine, you're likely to end up somewhere awesome, like Linden Park or Crotona Park or Ferry Point, where groups of Garifuna hold regular gatherings on summer weekends, filled with music and phenomenal food. When I was searching for Garifuna cuisine, I emailed Teofilo Colón (affectionately known within the Garifuna community as Tio Teo), the warm community leader who runs the Being Garifuna website, and asked him for help learning about Garifuna cuisine before I write about it again on my website. He graciously pointed me in the direction of an excellent 2012 Saveur article about Garifuna cuisine, and then he put me in touch with the quartet of amazing sisters who run the Garifuna catering company Weiga/Let's Eat, including Isha G. Sumner, a model and actress who once appeared on an episode of Law & Order, in perhaps the only example of a Garifuna-language segment on an American TV show.
It's pretty cool that Isha is an accomplished actress who speaks three languages. It's even cooler that Isha and her three trilingual sisters — Emely Gutierrez, Irina Gutierrez, and Gi Martinez — are really good at cooking and eating. You should definitely check out their website or their Facebook page, and show up whenever they're cooking and eating. They're all phenomenally lovable people, in addition to being excellent at cooking, eating, and explaining Garifuna cuisine to rookies like us.
On this particular day, the Weiga/Let's Eat contingent weren't cooking, just eating. (Yes, I just used the words "cooking" and "eating" in four consecutive sentences. No, I can't really think about much besides cooking and eating.) The four sisters joined my lovely wife and I for a journey to Linden Park, where a fleet of food vendors bless a two-block chunk of sidewalk on summer Sundays, along with a few other tables selling Central American-themed gifts. (Aren't you proud of me? I actually glanced at the tables that didn't have food! Don't get used to it.) The majority of the food vendors were Belizean – serving a mix of Garifuna and mestizo dishes – though a handful of Honduran, Guyanese, and Trinidadian chefs were also in attendance.
I'd be lying if I said that we ate from every Belizean vendor, but we came awfully close. I sampled ten different Belizean dishes during our two-hour stay at Linden Park – and we still spent less than $25. Here, have some bullet points, because you'll get really freaking bored if I turn this into paragraphs:
Conch fritters ($1): they don't look terribly photogenic, but the best of Linden Park's conch fritters was spectacular, spiked with several different types of pepper. Served from a Styrofoam cooler, and that's probably a good sign.
Garnaches ($1 each): fried corn tortilla, topped with refried beans, onion, salsa, and cheese. Mmm, fried tortilla.
Panades (2 for $1): small fried corn empanadas, stuffed with a bit of spiced shredded meat. Mmm, fried corn.
Salbutes ($1): puffed deep-fried corn dough (you know, I could probably stop the description right there: puffed deep-fried corn dough? Put anything on that, and it will probably be fabulous. Going on…) topped with stewed chicken, tomato, and lettuce.
Stew chicken ($10 for a heaping plate): a hunk of tasty bird, flash-fried and then stewed in "all three types of peppers", as described by the wonderful Belizean chef.
Meat pie ($1): probably a relic of English colonization, but with some glorious Caribbean flair.
Coconut "brittle" ($1): like peanut brittle, but, um… with coconut, which makes everything better, including tarts.
Coconut tarts (3 for $1): filled with a silky, cake-like coconut dough. Mmm… coconut.
Baked coconut-ginger empanadas ($1): with enough ginger to bring back fond memories of spicy banana bread; so good, it's almost unfair.
But perhaps the biggest hit of the afternoon was the Belizean tamales ($3), offered by a quietly charming young man who was selling his uncle's handmade treats. They were enormous – easily three times the size of their Mexican cousins – and stuffed with a spicy, saucy mix of vegetables and either pork or chicken. I'm a fan of tamales in all of their forms, but fresh, unusually spicy, supersized tamales make me particularly happy.
You know what else would make me happy? More acres of Garifuna food from Belize, Honduras, and elsewhere, preferably accompanied by a good Garifuna cookbook. Keep an eye on the Weiga/Let's Eat website or Facebook page; more acres of Garifuna food (hudutu!) are hopefully coming soon.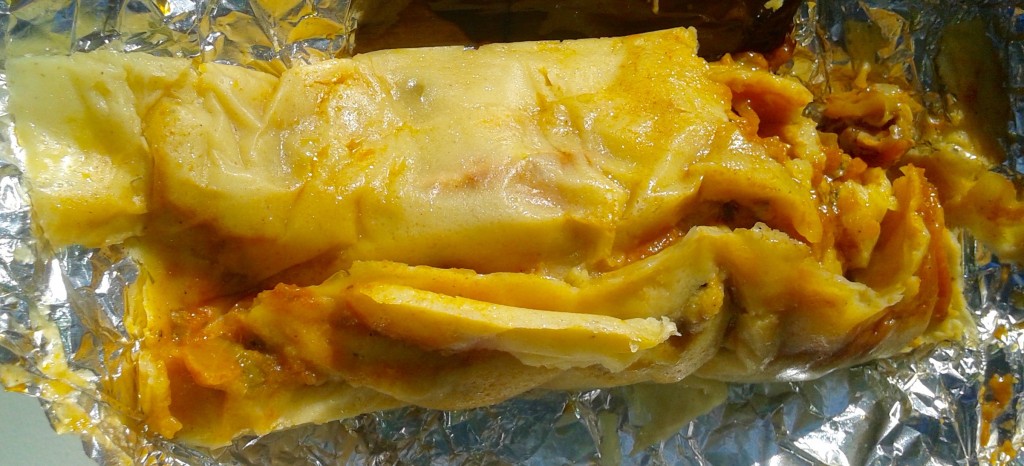 Linden Park vendors
Summer Sundays only
Subway: New Lots (L train) or Van Siclen (3, 4 trains)