When I first started this blog a few years ago, I had no idea what, exactly, I was trying to do. I started the blog only because I hoped that readers might tip me off to interesting food that I wouldn't find on my own. Plus, the blog gave me an extra excuse to oink incessantly explore every corner of NYC, meet people from all over the world, and act like a complete porker.
But I had no idea how to write about food, and I sometimes fell into the trap of acting like an amateur food critic. Early in the project, I ate some meals that weren't very good, and I wasn't shy about saying so. In retrospect, that was not awesome. On a food blogger scale of 1 to a plate of nachos, I was moldy cat food.
For example, I ate at a solid-but-uninspiring Dominican restaurant in Harlem that gave me a mild case of indigestion. I completely hate that blog post now. There are plenty of excellent Dominican eateries in NYC, and I was being an impatient buttmunch when I wrote about one that I didn't love. Now that I'm on the last leg of my project (wanna help?), I wish that I hadn't been such a cranky biyatch about some of the meals I ate. In particular, I didn't do the Dominican Republic justice. Sorry, D.R.: you deserve better.
As luck would have it, a friendly Dominican reader gave me an opportunity to atone for my crimes against Dominican cuisine. A lovely student named Earlene emailed me out of the clear blue sky, and invited me to her mother's restaurant in Union City, NJ, so that they could dazzle me with some top-notch Dominican cooking – and an amazing immigrant story.
The restaurant, Juana y Gloria, is named after Earlene's mother and aunt. The pair of sisters were brought to the U.S. a few decades ago by their brother, who initially came to here to become a monk, and then decided to ditch the monastery to become a successful businessman, just so that he could afford to bring the rest of his clan to the states.
Yes, Juana and Gloria's brother is a monk-turned-immigrant-patriarch. You can't make this stuff up.
The restaurant – now in business for around 20 years – is one of those places that features a different menu for every day of the week, and that's usually a wonderful thing. On this particular Friday, I enjoyed a platter of pork stewed with chayote (a vaguely squash-like vegetable, known as tallota in the Dominican Republic), accompanied by side dishes of avocado, plantains, beans and rice, and some blissfully tender yuca.
As much as I loved my dish, I was sorta jealous of two of my companions who wisely ordered mofongo. Mofongo is the Dominican Republic's gift from God rough equivalent of mashed potatoes, except that it's made from mashed green plantains and it can be topped with any number of things, nearly all of which are much awesomer than gravy. My lovely wife ordered the mofongo topped with stewed chicken; our infamous Puerto Rican pal opted for the mofongo with shrimp, onions, and peppers, and that automatically makes him a superior human being to, like, pretty much anybody who doesn't eat mofongo.
(And yes, I'm totally sucking up to him, hoping that he'll let me steal more of his food next time. That dude eats quickly.)
And just when we were all slipping into a pork-and-mofongo-induced coma, our wonderful hosts brought six desserts – one of everything on the menu. If you're the a regular reader of this blog, you probably know that I don't eat tons of dessert, so it never really occurred to me that the Dominican Republic might quietly be a hotbed of dessert genius. You can never really go wrong with flan, rum-soaked tres leches cake, or rice pudding – all of which were excellent. But since I'm from Iowa, you'll have a special place in my heart if you feed me corn pudding. Juana y Gloria's coconut-spiked milk pudding was even better, and the mildly misnamed dulce de naranja (literally "orange candy" or "orange sweets") – made from honey-cured grapefruit rinds – was particularly outstanding and interesting.
And just when I thought that the meal couldn't get any better, Earlene spoiled us with an after-lunch shot of mamajuana, which looks like a mildly misspelled illicit drug, but it's actually an herb-infused libation, made by soaking wine in a blend of Dominican roots, herbs, and chunks of tree bark. The version Earlene offered tasted like a cross between spiced rum and mulled wine; it was delicious, and it's traditionally thought to have curative properties. In particular, I think it helped cure any lingering remnants of my formerly sh*tty attitude toward Dominican food.
So, Dominican cuisine: you really are lovely and I'm sorry that I done you wrong. Now, Dominican cuisine, feel free to hit me in my mouth or my belly. Or just jump right in there anytime you want. Please?
A very belated thank you to Earlene, Juana, Gloria, and the lovable staff at Juana y Gloria for a great meal. And a very belated apology to Dominican food: sorry, I used to be a real dick.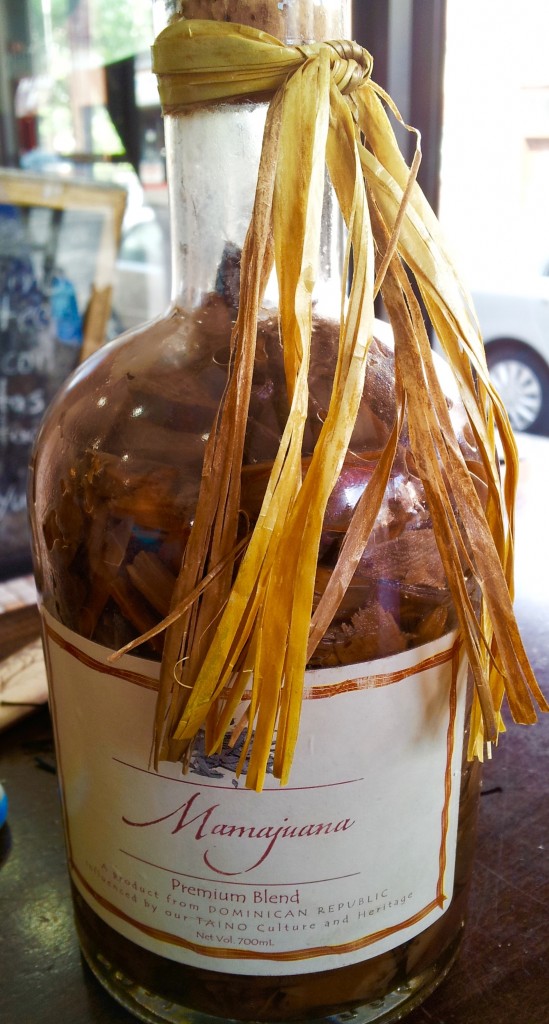 Juana y Gloria
1801 Bergenline Ave.
Union City, NJ