There's only one thing that you really need to know about Balkanika, a Macedonian-owned restaurant in Hell's Kitchen: they serve cheese wrapped in chicken wrapped in bacon. It's sort of like something you would use to tease a dog, except that it's totally real and totally amazing.
Balkanika is part of a small cadre of dog-teasing somewhat upscale Balkan restaurants in NYC, joining the likes of Kafana and… OK, fine, maybe just Kafana, which is also pretty spectacular. The dining room is tastefully designed, the service is excellent, and the Macedonian chardonnay is tasty; you could reasonably bring a date, a business associate, or a stodgy parent for a meal there.
There's a ton to like about this place: fantastic grilled meats, solid bureks, and a wide array of fresh mezedes. Our sprawling crew opted to share a combination platter of mezedes – including hummus, babaganouj, taramosalata, and an excellent kalamata olive tapenade, among other treats – bargain priced at $18 for six or $26 for a sampler of 18.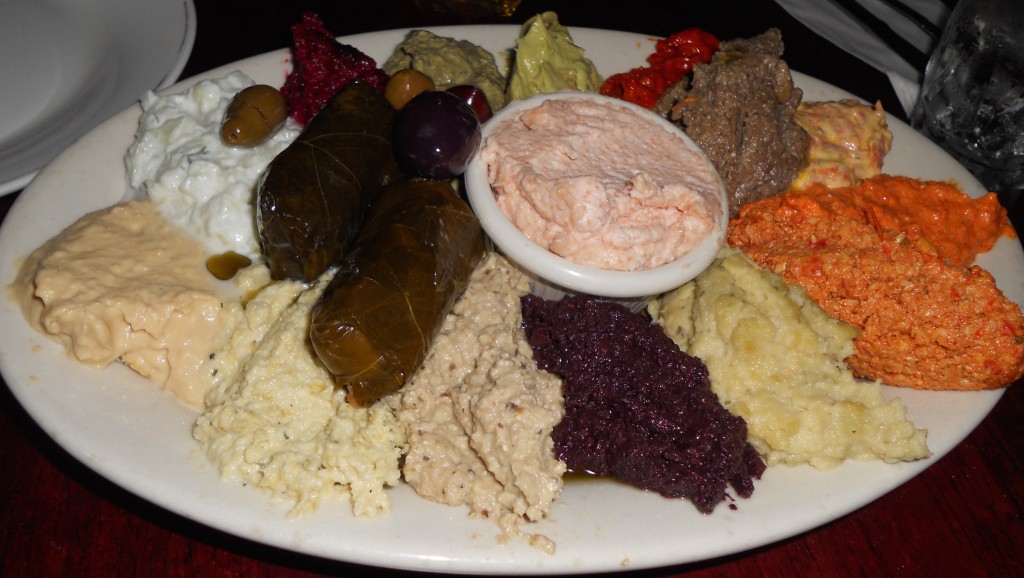 Though great mezedes always make me really happy, today's winner remains… drum roll please… cheese wrapped in chicken wrapped in bacon. The delicacy is called chicken uvijac, and we ate it as part of the mixed grill for six people ($130), along with leek, spinach, cheese, beef bureks ($10 each).
Here, I'll shut up: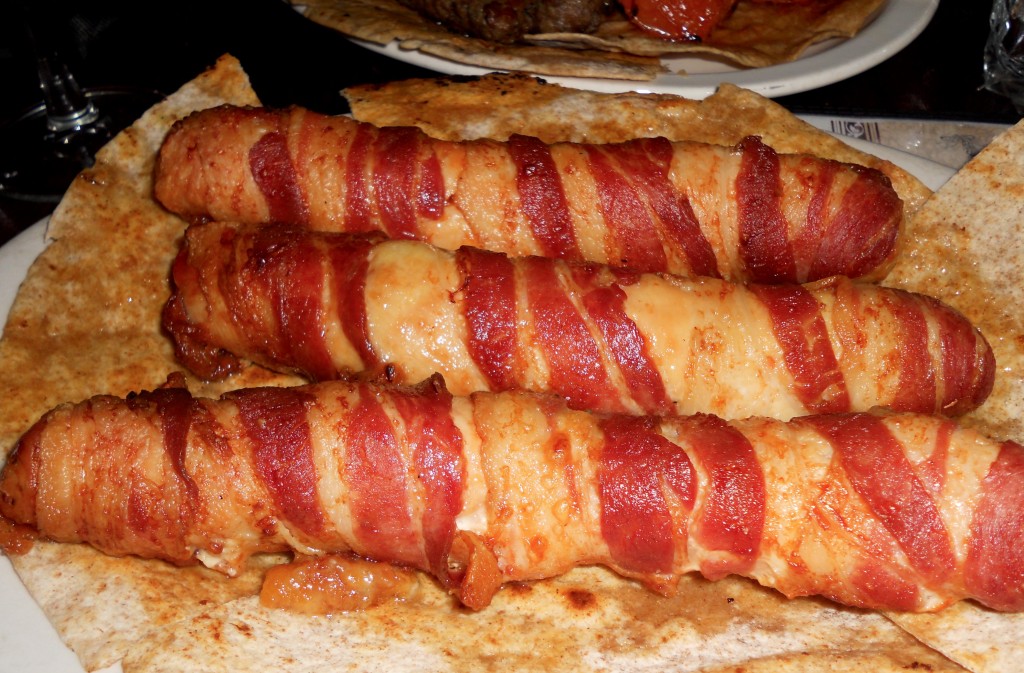 I rarely say much about the service at the restaurants I visit, but Balkanika deserves some special love because we were total buttholes, and our server – a lovely Serbian woman – was an absolute Zen master. I spent 12 years working as a waiter and bartender, and I still have plenty of lingering pet peeves from my years in the restaurant industry. For example, I totally despise people who make a reservation for a large party, and then have their group show up late, with more people drifting in and out during the course of the meal.
We were totally those people. Two visitors ordered nothing and just occupied seats for a while; we ordered slowly, and ate even more slowly. We also didn't order enough – the bill for our herd of 12 barely touched $20 per person. And we occupied the nicest corner of the restaurant for pretty much an entire Friday night.
And the server didn't bat an eye. Clearly, she's as great as the restaurant she works in. And you know what that means, right? She totally deserves some cheese wrapped in chicken wrapped in bacon…
Balkanika
691 9th Avenue
Subway: 50th Street (C, E, 1 trains) or 49th Street (N, Q, R)