In New York, I often spend hours and hours searching for cuisine from underappreciated African nations, like Namibia. But if I actually go to Namibia, it should be relatively easy to find authentic Namibian food. Right?
Well, maybe not. My lovely wife and I just spent two and a half weeks driving around Namibia, admiring wildlife, gazing at mind-blowingly beautiful scenery, meeting phenomenally friendly Namibians… and feeling vaguely confused about what, exactly, Namibian food is.
Let's start with the fun and non-confusing stuff, like desert elephants:
And hauntingly beautiful desert landscapes, often featuring plenty of sand: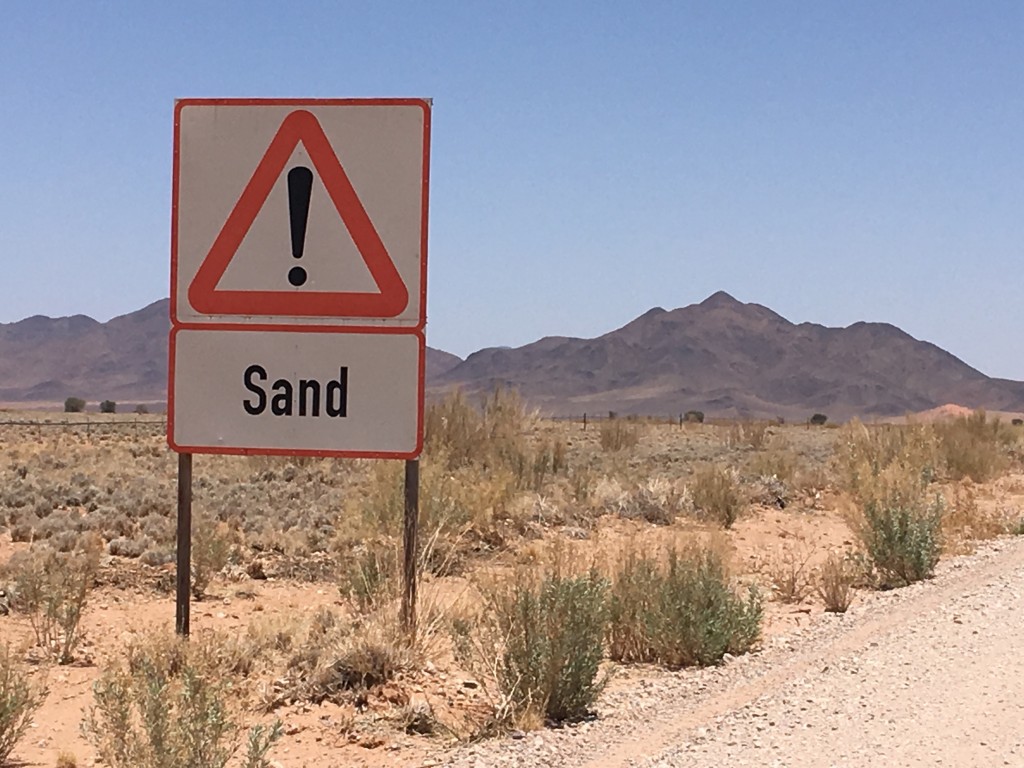 And the little-known Namibian tradition of putting bottle caps on your nose when drinking Kuemmerling, a German after-dinner liqueur beloved by our wonderful Namibian hosts in Lüderitz:
If you like wildlife, you'd absolutely love Namibia – whether you enjoy gazing at wildlife, or eating it. Everywhere we went in Namibia, we ate delicious game meat, including this excellent charcuterie plate from the amazing Tandala Ridge B&B near Etosha National Park, featuring smoked kudu, mountain zebra salami, and sliced, chilled zebra steak: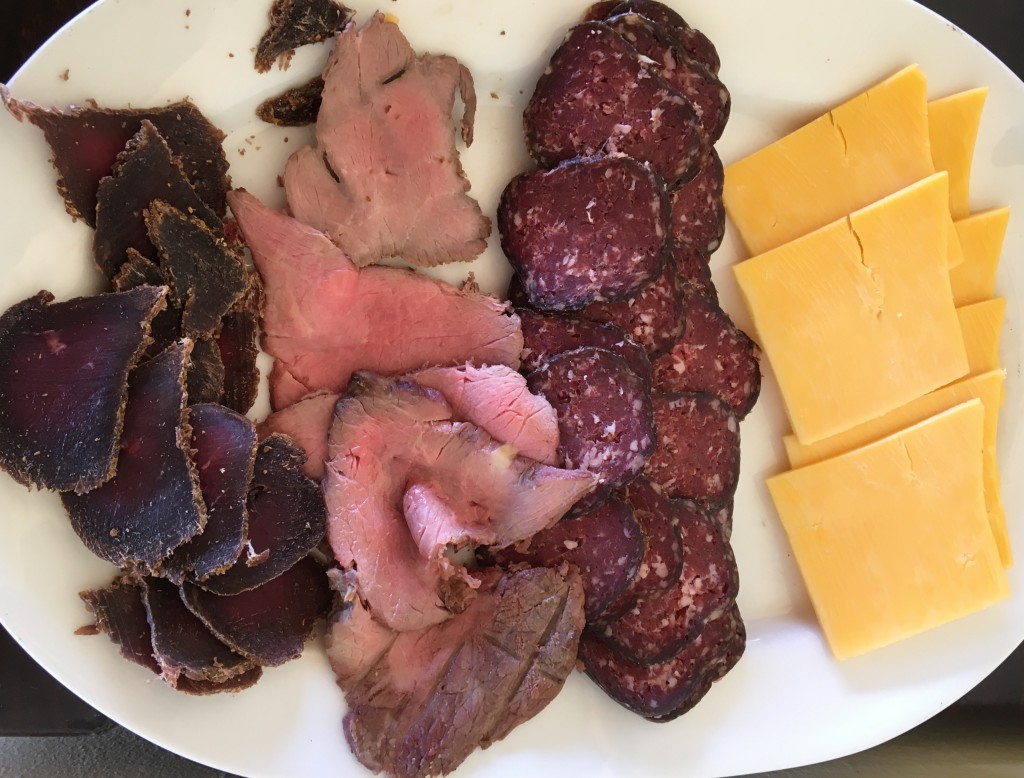 Here's a nice warthog steak, served with fire-roasted sweet potatoes, zebra boerwors, and corn:
And here's a ZLT sandwich:
Even the non-game meat was delicious in Namibia. In two different cities, we ate an irresistible dish called eisbein: smoked pork knuckle, roasted until it's blissfully crispy, served with potatoes, red cabbage, sauerkraut, and an array of spicy and sweet mustards: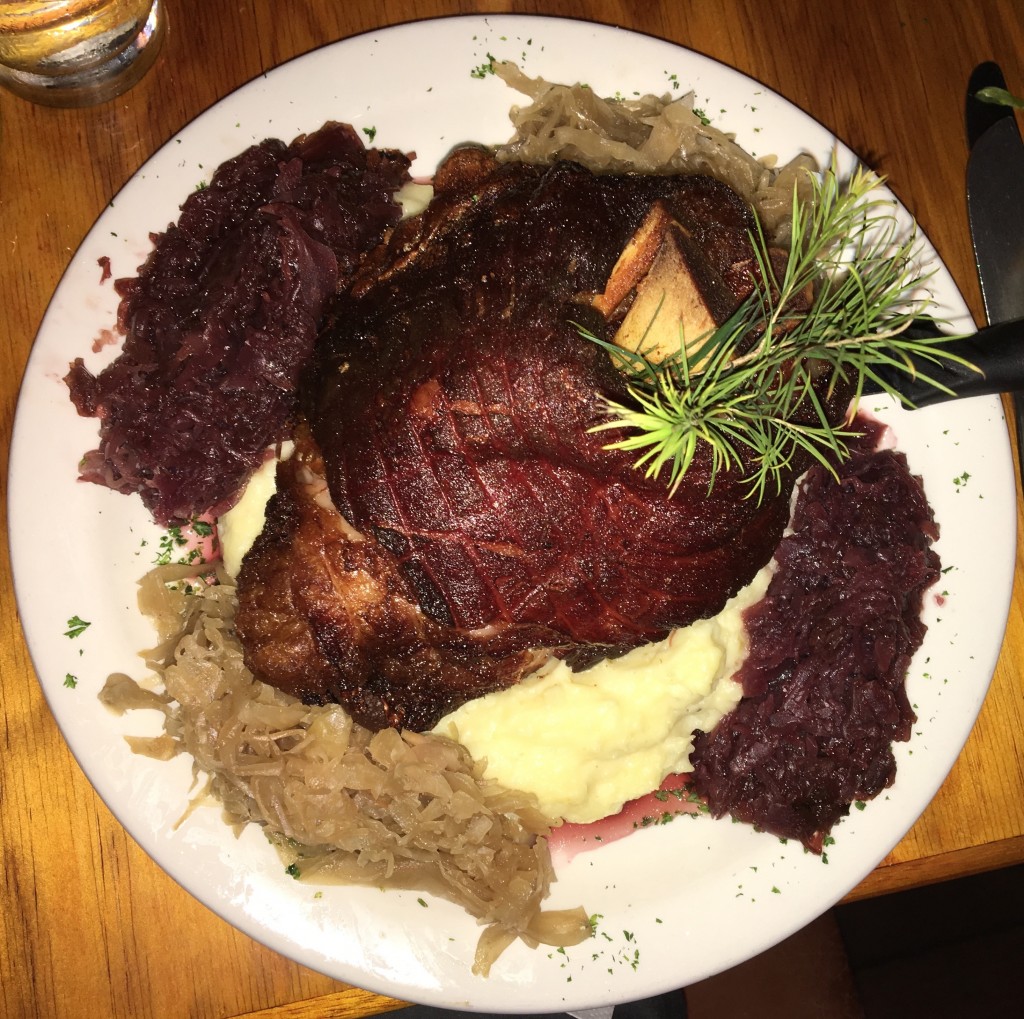 But here's the thing: I couldn't shake the feeling that our meals represented only a very limited – and very European – slice of Namibian cuisine. Eisbein, for example, is a German dish (also known as schweinehaxe), though I was told that the crispy skin was "perfected by Namibians". Our many steak-centric feasts resembled meals that you might eat in an American or German restaurant, accompanied by some combination of potatoes, pasta, and well-behaved vegetables. The only difference is that the beef or lamb had been traded for oryx or zebra — both of which are leaner, more tender, and more flavorful than domesticated meat. That's perfectly delicious, but were we missing some aspect of Namibian food?
Our meals felt very European, but only around 6% of Namibia's population is white — mostly descendants of Germans and white South Africans who migrated to Namibia during the colonial period. Namibia is a fascinating ethnic melting pot: despite its incredibly sparse population of 2.2 million people, scattered across an area twice as large as California, Namibia is home to dozens of ethnic groups, including Ovambo, Kavango, Nama, Damara, Herero, Caprivian, and Bushmen, among others. And I couldn't stop wondering if there were other interpretations of "Namibian cuisine" that might better reflect the traditions of some of Namibia's non-white population.
So I started asking around. When I asked where I might find Namibian food, one B&B owner in a smaller city just looked confused, and said, "Um, maybe in the capital?" Another acted like I'd farted loudly, and said, "Namibian food? Why would you want to eat that garbage?" I asked for Namibian food at several tourist information centers, and was greeted with shrugs, directions to a grocery store, or the names of (invariably excellent) upscale restaurants that served a familiar array of European-influenced meals.
But I'd read several articles – including this wonderful post by a pair of Peace Corps volunteers – about traditional Namibian treats such as mealie pap (white cornmeal, similar to glorious Malawian nsima), mahangu pap (millet porridge), mopane worms (a protein-rich caterpillar), and fat cakes, among other things. None of these appeared on restaurant menus in the cities, towns, and lodges we visited outside of the capital, Windhoek.
On our final day in the country, we passed through Windhoek on our way back to the airport. This time, I was ready: I'd combed through all 93 restaurants listed on TripAdvisor in Windhoek. Sadly, only 13 claimed to serve any sort of African food at all. And of those, only one – Xwama Cultural Village, tucked away in a non-touristy suburb – had a menu that went beyond the game-focused dishes we'd enjoyed elsewhere in the country.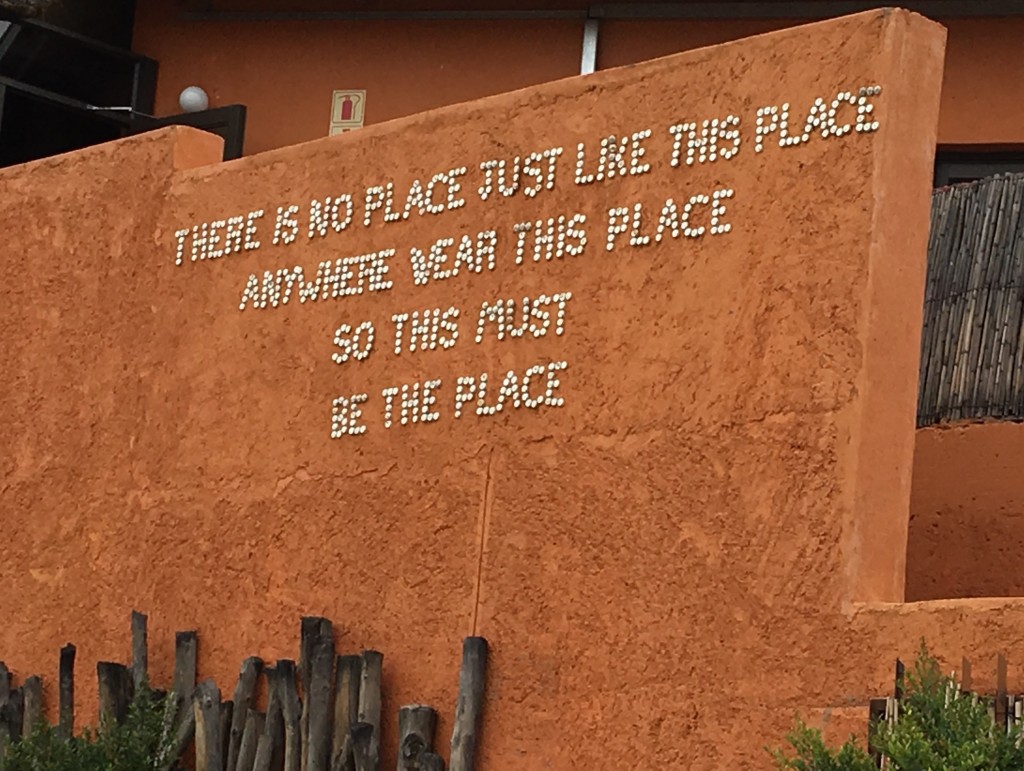 The Xwama Cultural Village complex includes a B&B, a full-service restaurant, a take-out food stand, a bar, and a craft shop; the place is incredibly charming, built from stone, reeds, wooden logs, and a thatched roof. I was just a tourist, so I obviously don't know enough to say whether it truly captured the essence of Namibian homes or community spaces, but the entire complex felt genuine and homey, and not like a tourist trap at all.
The restaurant doesn't offer forks or any other utensils: you eat your meals from hand-carved communal bowls, with your hands. Before the meal, our wonderfully charming and knowledgeable server, a gentleman named Uahimisa (also known as Costa), brought a basin and warm water to our table so we could wash our hands. Once we were cleaned up, we asked Uahimisa about the mopane worms, which are served only in 250-gram (roughly half-pound) portions, and he graciously brought a sample out for us, just to make sure that we actually liked them before we committed to eating a mountain of them.
Mopane worms are actually a type of caterpillar; the guts are squeezed out, the worms are dried in the sun, and then they're seasoned and pan-fried. They aren't necessarily cute, but they're delicious: they taste something like a meaty portobello mushroom, braised in beef broth. If you had blindfolded me and told me that I was eating the pan-fried love child of a mushroom and a cow, I might have believed you. To be honest, we thought that they were too rich to eat as a main course, as much as we loved them.
After snacking on a few mopane worms, we moved on to our four-headed main course. We opted for marathon chicken (variously known as Owambo chicken, Wambo chicken, or roadrunner chicken), slow-cooked in tomato, onion, peppers, and (I think) marula nut oil; it was one of those fowl-from-the-heavens experiences, with the meat falling off the bone and into a perfectly seasoned gravy.
Another variation on marathon chicken was equally appealing, in a marula nut sauce that reminded us of a refined version of groundnut stew. And my personal favorite was the wild spinach (omboga), stewed in something magical that I couldn't quite place. And just as we were taught to do by our favorite Malawian chef, we scooped everything with mealie pap (white cornmeal), which I still love dearly.
We certainly had eaten well during our weeks in Namibia, but the meal at Xwama was easily our favorite. Which makes me wonder: why is it so difficult for tourists to find this cuisine elsewhere in the country? We visited several of the nation's tourist hot spots outside of Windhoek, and looked – hard – for interesting food. Maybe we were just unlucky, maybe we looked in the wrong places, or maybe we were simply in the wrong parts of the country, somehow. But such delicious traditional food should be everywhere, in plain sight, alongside the other cuisines we enjoyed in Namibia. I'm sure that we aren't the only foreign tourists who would LOVE to taste a full variety of Namibian foods, not just game steaks and fried fish.
So I'm begging you, Namibia: make tourists eat this stuff. Feed us wild spinach and fat cakes and Mopani worms and millet beer and mealie pap and grilled oryx and grilled donkey and eisbein. Maybe it's true that only oddball tourists will actually go out of their way to find a place like Xwama. But if you stick great Namibian food in our faces at all of the major tourist destinations, I'll bet that plenty of tourists would learn to love it.
Now could somebody please clone the Xwama Cultural Village in Walvis Bay, Sesriem, Lüderitz, Okaukuejo, and New York City? Especially New York City? I'm ready for more of that wild spinach.
Like some Namibian tourist resorts, New York City has a lamentable shortage of delicious Namibian food. If you happen to know anybody from Namibia or nearby countries (Botswana, Zambia, Zimbabwe) who might be willing to speak with me, please email me at unitednationsoffood@gmail.com or send me a message via Twitter or Facebook.