As you may know, I'm a little bit salty about the African food scene in NYC. Don't get me wrong: I still haven't met a plate of African food that I didn't like, and our city is blessed with some phenomenal African chefs. There just aren't quite enough of them here.
Something like 15 of Africa's 50-plus nations are represented in New York City restaurants. Some are represented well: for example, we have excellent Senegalese, Nigerian, Ghanaian, and Somali restaurants here. But the other 35 or 40 countries? Sadly, nothing. Heck, our president is the son of a Kenyan, but there are no Kenyan restaurants in New York. As eaters, we're doing a lousy job of supporting African cuisine in New York, and that still makes me sad.
Fortunately, New York's African food void is filled once a year by the wonderful women of the United Nations African Mothers Association (UNAMA), who offer a beautiful, home-cooked African buffet at their annual fundraiser each December. It's a rare opportunity to cram countless hard-to-find African treats onto a single plate for just $40; in the most recent edition of the event, all proceeds supported the development of a school in Burkina Faso.
As usual, somewhere around a dozen nationalities were represented in the UNAMA spread, and I did my best to sample some of everything. Highlights included a delicious whole fish from Equatorial Guinea, roasted with bacon and potatoes; an excellent South African breyani (similar in spirit to an Indian biryani) with matemba, a small dried fish; and a Moroccan chicken pastilla, consisting of layers of chicken and phyllo dough in a sweet, nutty syrup. It's like a really phenomenal, meaty baklava, except that you don't have to feel bad if you decide to eat a huge chunk of the stuff as your main dish.
As in past years, I encountered a few dishes I'd never seen before, and managed to add a few new countries to the "eaten" list. I enjoyed my first taste of Mozambican food: shrimp curry, stewed in coconut milk, served atop rice. I also tried Cameroonian ndole for the first time: cassava leaves – which, incidentally, I absolutely love – cooked in peppers, onions, and stockfish. This rendition was pleasantly bitter, with a mild fish flavor; I thought it was delicious, but when I went back to the buffet for a second helping, I startled an African onlooker, who exclaimed, "Americans never like cassava leaves!"
Another highlight of the meal was the Libyan lamb tagine. Tagine is a fixture in Algerian and Moroccan restaurants, and it usually consists of large, delicious chunks of stewed meat, cooked with an array of vegetables and spices that can differ considerably from region to region. This was a different beast entirely: the tagine was served in meatball-sized pieces, topped with a sliced black olive. The tagine tasted strongly of dill, which pretty much made my day.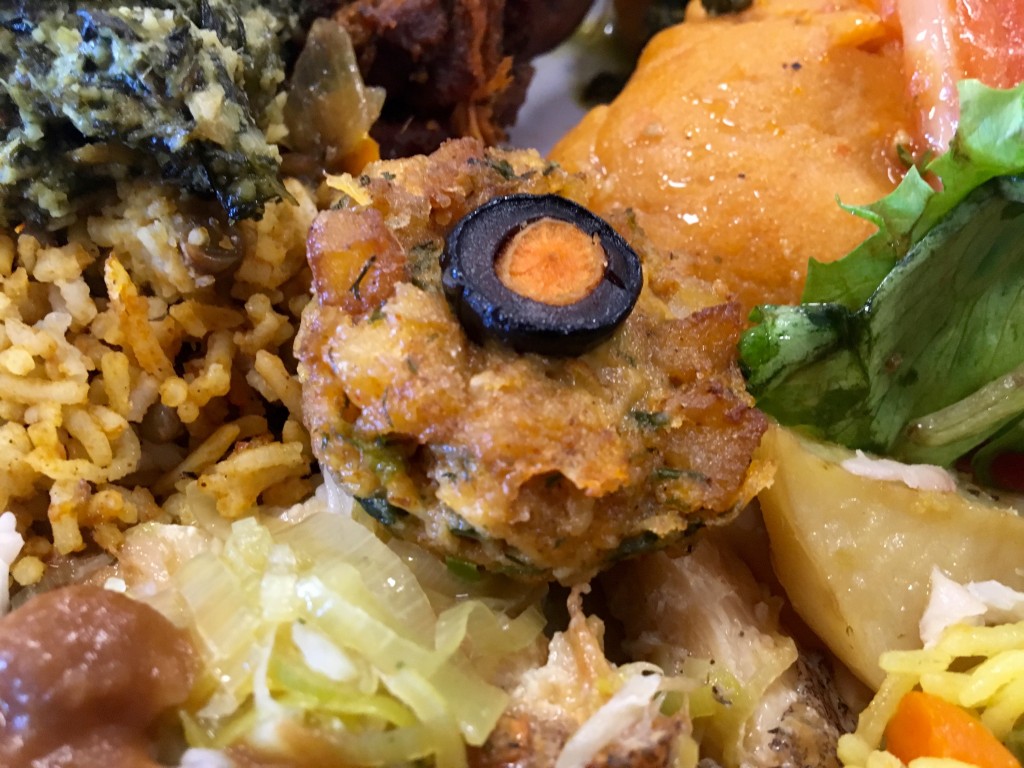 Well, not that my day needed to be made: there aren't too many things that make me happier than the UNAMA lunch. See you next year, friends.
Special thanks to Marie Taqui and Lynn Walsh for providing details for this year's event. As always, if you know anybody who might be willing to prepare a meal from other under-appreciated African nations, please email me at unitednationsoffood@gmail.com, or contact me via Twitter or Facebook.