It's one of the great mysteries of New York City: why are there something like 50,000 Nicaraguans in the Tri-State area, but no Nicaraguan restaurants anywhere in the five boroughs? I don't get it.
Fortunately, I hit the Nicaraguan jackpot when I emailed Lidia Hunter, creator of the Nicas en NY y NJ Unidos Facebook page and the now-dormant Nicas en New York blog. She graciously spent pretty much an entire weekend(!!) with me, introducing me to some of New York's Nicaraguan awesomeness.
My Nicaraguan weekend sprawled across three days. On Saturday night, Lidia invited me to a fundraiser in Crown Heights hosted by Las Primas, a Nicaraguan softball team. On Sunday, Lidia took me Discoteca La Boom in Woodside, site of a massive Nicaraguan party hosted by ExpoNica NYC. On Monday, I even had Nicaraguan coffee at Nica-owned Café Integral in Soho, accompanied by a charismatic Nicaraguan student I had met at a (non-Nicaraguan) event two days earlier.
So yeah: a whole weekend of Nicaraguan-ness! Honestly, the sheer quantity of amazing people and wonderful dishes made my head spin, in the best possible way.
That, or the Toña and Flor de Caña made my head spin. Or both.
I can't possibly fit everything I learned about Nicaragua and Nicaraguan cuisine into a single blog post, but here are a few highlights of the weekend:
Vigorón
At the Las Primas event on Saturday night, the first plate of food I tried was delicious, and it had an absolutely glorious name: vigorón. My Spanish is rusty, but I think the rough translation is "big and vigorous," which is pretty apt when you top boiled yuca with fried pork, a fresh cabbage salad, and a homemade Nicaraguan hot pepper sauce:
Fritos
Several Toñas later, the lovely ladies of Las Primas brought me some fritos. No, not those Fritos. These are much better than the packaged American type: the Nica variety features long, flat slices of crispy fried green plantains, topped with stewed pork, cabbage salad, and – if you're into that sort of thing – more hot sauce. Nicaraguan fritos are pretty much everything you could possibly want from nachos, except with more pork and tastier "chips." Epic.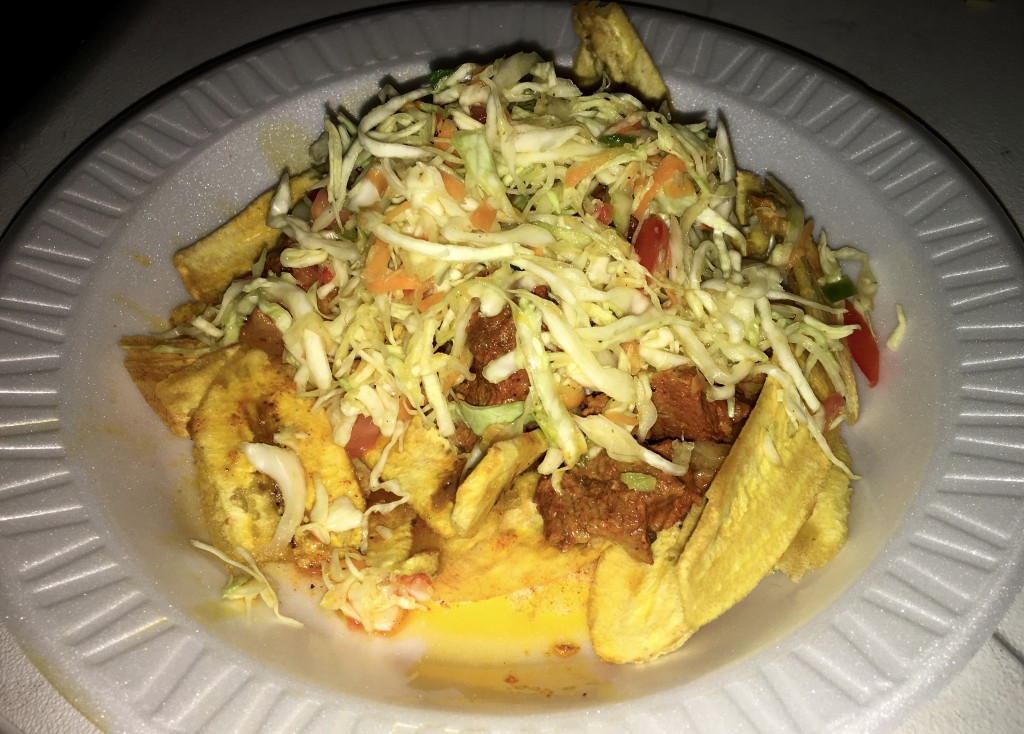 Palo de Mayo (Maypole)
So there's this tradition that I'd somehow never heard of: pole dancing.
No, not that kind of pole. This is a maypole, better known as palo de mayo in Nicaragua: basically, a tree covered in ribbons that becomes the center of dance floors in the springtime.
I'm sure that there's a long, fascinating story behind it, but rumor has it that the Nicaraguan palo de mayo somehow evolved from the European tradition of ribbon dances. On Saturday, my Nicaraguan companions explained that the tradition took on a local flavor as it spread first to English colonies in the Caribbean, then to parts of Central America. Roxy, one of my new friends from the Caribbean coast, theorized that the ribbon dance became intertwined with existing Caribbean and Central American fertility rituals, leading to a decidedly sensual, non-British style of dance.
Patties
There is incredible regional variety in Nicaraguan cuisine, and when one of Las Primas passed me a plate of Nicaraguan beef patties, my new friend Hopee – from the northern Nicaraguan state of Matagalpa – looked confused and asked, "What's that?"
Apparently, Nicaraguan patties aren't terribly common outside of the Caribbean region. The version I tried – which most likely evolved from Jamaican patties – was stuffed with some beautifully seasoned ground beef. The result is fantastic, and reminds me of the wonderful baked empanadas I ate in Chile, except that the meat is more finely minced, and has more spice to it. Great stuff.
Enchiladas
On Sunday at Discoteca La Boom, the team at ExpoNica NYC kicked off my evening of Nica food with enchiladas. No, not Mexican enchiladas. The Nicaraguan type resembles a lightly fried empanada, stuffed with beautifully peppery ground beef. On this particular day, the enchiladas were served with a fried ripe plantain and some addictive, salty, fried Nicaraguan cheese, which reminded me of a fried version of the haloumi at my favorite Greek Cypriot restaurant.
Sunday's band: La Nueva Compañia
I love these guys – they're a band from Managua, currently on tour in the United States. My friend Hopee explained that most of the songs they played on Sunday were high-energy homages to some aspect of Nicaraguan culture or history. Such fun music, even if I didn't always understand 100% of the lyrics.
Plus, those straw hats are pretty epic.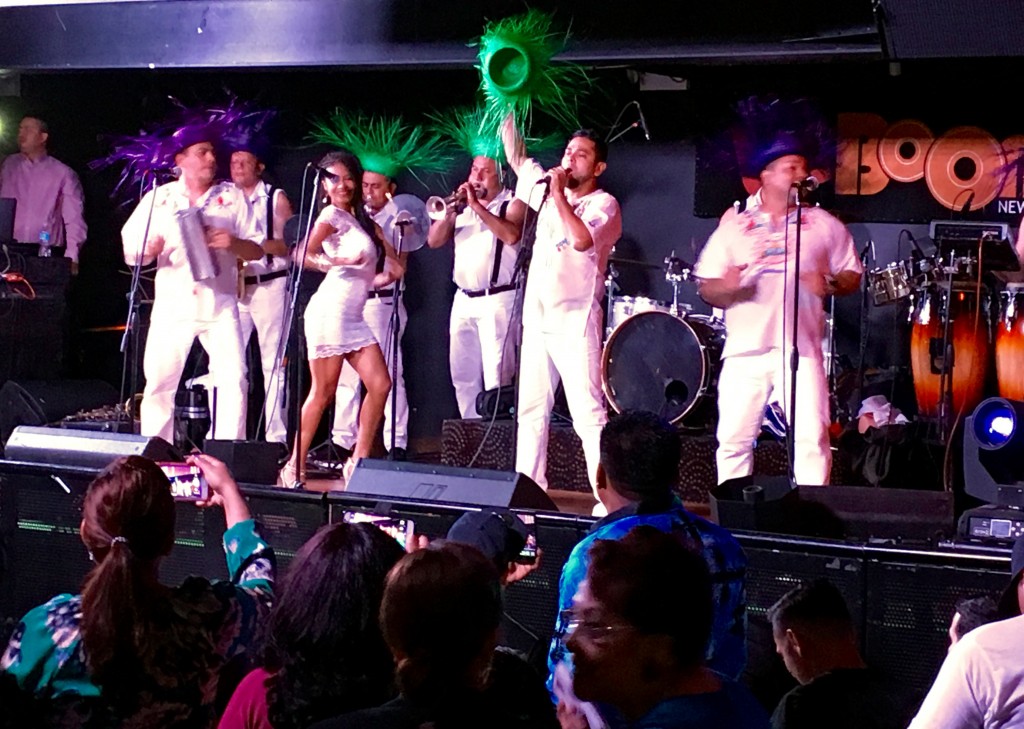 Nacatamales
You're surely familiar with Mexican tamales, but these beasts make the Mexican sort look downright scrawny. Nacatamales are meal-sized, and closer in spirit to the epic Belizean tamales you can get in Linden Park, except that the ingredients are a little bit different: the corn masa is silkier, and it's studded with pork, onions, garlic, tomato, peppers, green olives, and raisins, among other treats – and wrapped and steamed in a banana leaf.
Also pictured: a nice, cold cup of Nicaraguan cacao — a rice-based drink that vaguely resembles horchata, but with a much richer flavor from the cinnamon and fresh Nicaraguan cocoa beans.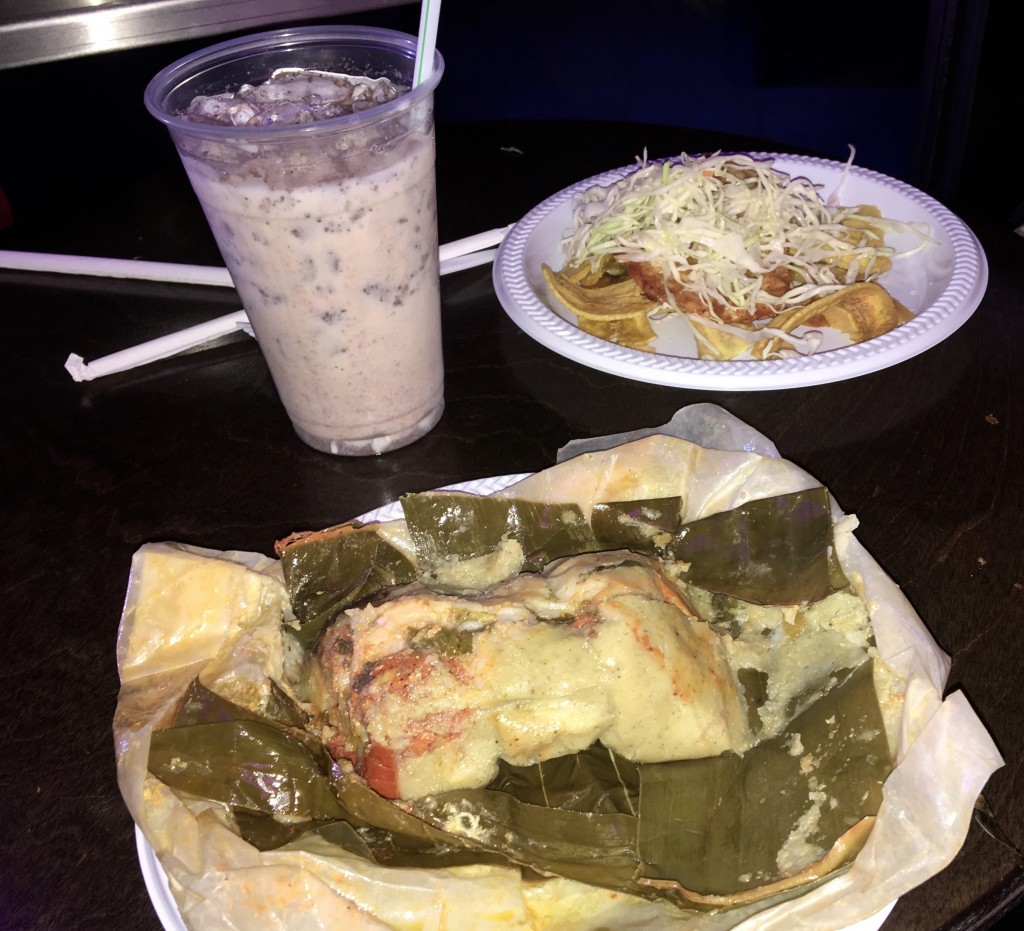 Stuff I didn't eat: pupusas and rondon and lobster soup and…
Of course, the Nicaraguans I met eagerly described other amazing Nicaraguan dishes that we didn't happen to have in front of us. A sampling:
Rondon: a dish from the Caribbean coast, vaguely similar to Grenadian oildown – vegetables, meat, and/or fish, stewed forever in coconut milk and spices. (Whimper.)
Nica pupusas: I've had countless Salvadoran pupusas, but my friend Eduardo – from the northern city of Estelí – explained that the northern Nicaraguan version is made by mixing tomatoes and peppers into the corn masa, giving the pupusas a reddish hue and more flavor. Sign me up!
Lobster soup: apparently, the Corn Islands – off the Caribbean coast – have a time of year called "lobster soup." Basically, everybody makes – well, lobster soup. You can wander around from bar to bar – or house to house – drinking Toña or rum and eating lobster soup, often offered by complete strangers. Sounds amazing.
I could go on and on. Every time I ate something wonderful, somebody told me about something else I needed to try, often available in only one corner of the country. My friend Hopee, from Matagalpa in the north, explained that she sometimes won't even recognize food from other regions of Nicaragua; in terms of cuisine, Managua or the Caribbean coast might as well be a whole other country.
All of this culinary diversity from a nation that's smaller than New York state. Pretty awesome.
And the very best thing that I experienced over the weekend was… drum roll please…
Nicas
Yeah, I ate great food all weekend, since – well, you know, eating is my only real skill. But sometimes the food takes a distant, distant backseat to the fantastic characters I meet.
I fell in love again and again over the weekend with all sorts of friendly people: the charismatic DJ who spent half an hour talking about Nicaraguan music and dance traditions, the fleet of chefs who patiently walked me through their cuisine, and the complete stranger who offered me a ride home – from Crown Heights to Astoria, far out of his way! – when he saw me leave the party and head toward the subway on Saturday night. Everybody I met had a nearly magical way of making me feel like an honored guest and a long-lost cousin, all at the same time.
So of course I loved the big, hearty plates of Nicaraguan food. But at the risk of sounding totally cheesy, I was even more enthralled by the big-hearted people I met. You rock, New York Nicas.
Huge thanks to all of the incredible people I met during the weekend, including Hopee, Eduardo, Gema, Gladys, Shanell, Roxy, Jaykel, Evelyn, Guillermo, Marlene & Rolando from ExpoNica, ExpoNica chefs Martha Saballos and Maria Mercedes Caceres… and especially Lidia Hunter, who made all of this possible. Lidia, you're a saint!!!