So when we say the word "country", what the hell do we actually mean?
Most of us would agree that Taiwan is a country; China and the (other) United Nations definitely disagree. Puerto Rico is technically a territory, but it has its own national soccer team, and it definitely has its own cuisine. And what about Western Sahara or Palestine or Tibet? None are full UN members, but they could arguably be called countries, depending on your politics.
My stomach has its own politics: when in doubt about a certain locale, my stomach calls it a country. More food that way.
So… yeah. Tibet. If you haven't noticed, there are quite a few Tibetan restaurants in New York, mostly in Jackson Heights – but some are remarkably difficult to notice:
Sadly, Lhasa Fast Foods has been temporarily closed for pretty much the entire spring, presumably to excavate itself from the mountain of phone advertisements. But a friendly Nepalese shopkeeper pointed me to Phayul, located a block away, in another easy-to-miss spot above a barbershop.
It wasn't long before my tongue was completely numb. No, really. We ordered a bowl of tsak sha la kor hot, a stew made from beef, red chilies, thinly sliced daikon, and "mountain herbs." I asked our server if the "mountain herbs" had a name in English; she called out to one of the chefs, who smiled warmly, waved an open container of a dried fennel-like substance in our direction, and shrugged.
I'm not making this up: as I slurped the soup, my tongue kept going numb. It wasn't unpleasant. The culprit seemed to be the peppercorns, not the mountain herbs or red chilies. But I could be wrong.
Our other four dishes didn't do quite as much to paralyze bits of our faces, but they were equally tasty. We enjoyed a spicy version of stir-fried chicken in a peanut sauce, seasoned with more red chilies:
And then there were some spicy pan-fried potatoes (shogo katsa), with plenty of scallions:
Before I continue, here's a cautionary tale for any parents out there. On this particular evening, I dined with a fascinating woman who works in the Democratic Republic of Congo and has roots in France, Martinique, and Cuba. Her mother fed her blended vegetables until she was 12. Yes, blended – like baby food. Until she was 12.
She hates most vegetables to this day. "You actually eat green onions?" she asked somewhat incredulously, as she plucked them out of her potatoes.
So yeah: vegetable-wrecking is bad.
Anyway, no vegetables were harmed in the making of the momos, the excellent dumplings that are probably Tibet's best-known dish. Phayul's are wonderfully juicy on the inside, stuffed with a soupy mix of ginger, cilantro, and in our case, beef. Your chin has been warned.
And then there was the hearty stew that just didn't sound quite right: tsak sha dro thuk, translated as beef soup with oatmeal. Oatmeal? Huh?
The stew itself was probably our favorite dish of the evening. It was hearty and beefy and pleasantly salty, with chunks of bone cooked with the oatmeal so that the marrow flavor could seep in. The stew also featured a hint of red chilies, but – for better or worse – it didn't quite have the firepower to paralyze my tongue again.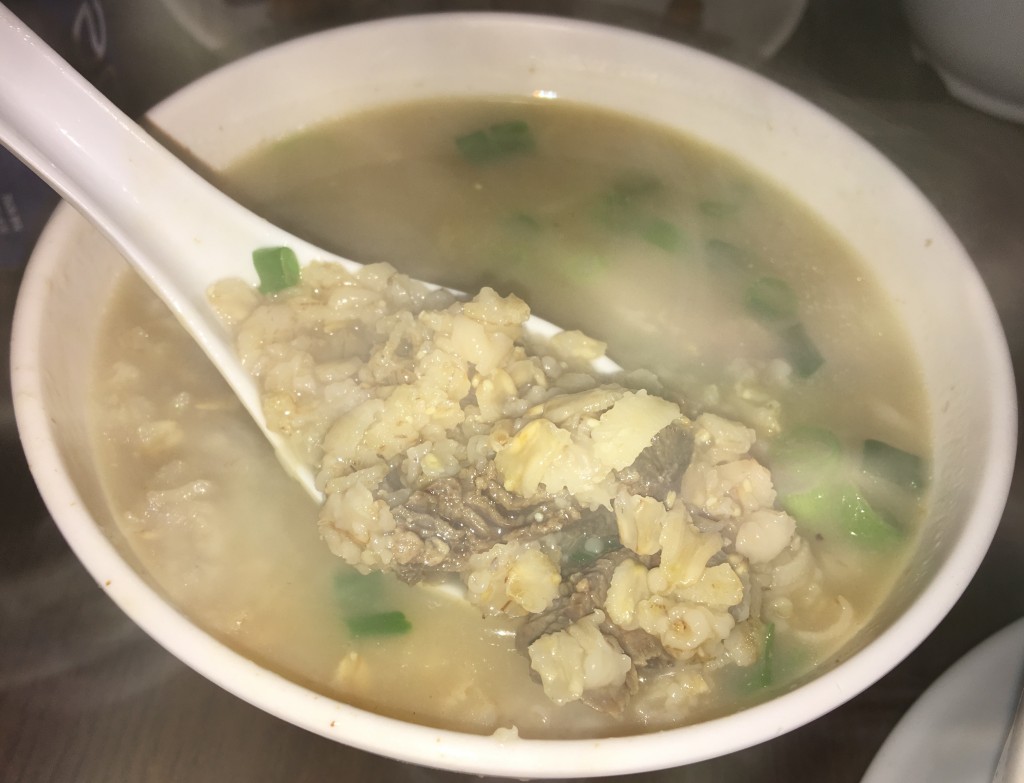 Phayul
37-65 74th Street, Queens
Subway: Roosevelt Av./74th St. (E, M, F, R, 7)