I seem to say the same thing after every single meal these days: people are amazing.
In my search for Timorese food, I emailed some complete strangers in East Timor – alumni of my high school's "sister school" – and asked if they knew any Timorese people who live in New York. Within a few hours, the friendly Timorese strangers had contacted a thoroughly lovable St. Lawrence University student named Debby, who emailed me immediately. As luck would have it, two of Debby's Timorese friends were visiting her for a night of Timorese cuisine – and Debby very generously invited me to join the fun.
In case you're not familiar with it, St. Lawrence University is in the charming little town of Canton, New York – about 350 miles from New York City. I know: I deserve an asterisk for leaving the five boroughs. But the capital of East Timor is 9,900 miles from here. A 350-mile drive is a drop in the bucket, right?
Plus, I absolutely loved my hosts, and would drive 350 miles anytime just to hang out with any of them again. The threesome consisted of Jacky, a student of food processing in upstate New York; Miguel, a rising senior (and soccer star!) at Methodist University in North Carolina; and Debby, our beloved ringleader, working on a degree in economics and politics at Saint Lawrence.
East Timor is pretty literally on the opposite end of the planet, but the world is small sometimes: Jacky and Debby attended the same high school in Dili, then ended up in the same region of New York as university students. Miguel and Debby met at an international school in Singapore – where they discovered that they were actually related, even though they'd never met before.
Anyway, we spent a solid five hours in the shared kitchen of St. Lawrence's International House, eating an amazing meal and chatting about East Timor. My three hosts are fantastic conversationalists who taught me TONS about their country in just one evening. And of course, they fed me a wonderful, wonderful meal.
Let's start with the ludicrously delicious fish – tilapia, I think – brushed with garlic and chile oil, and grilled on one of those slick little plug-in grills. It's amazing what you can do in a dormitory kitchen these days, no?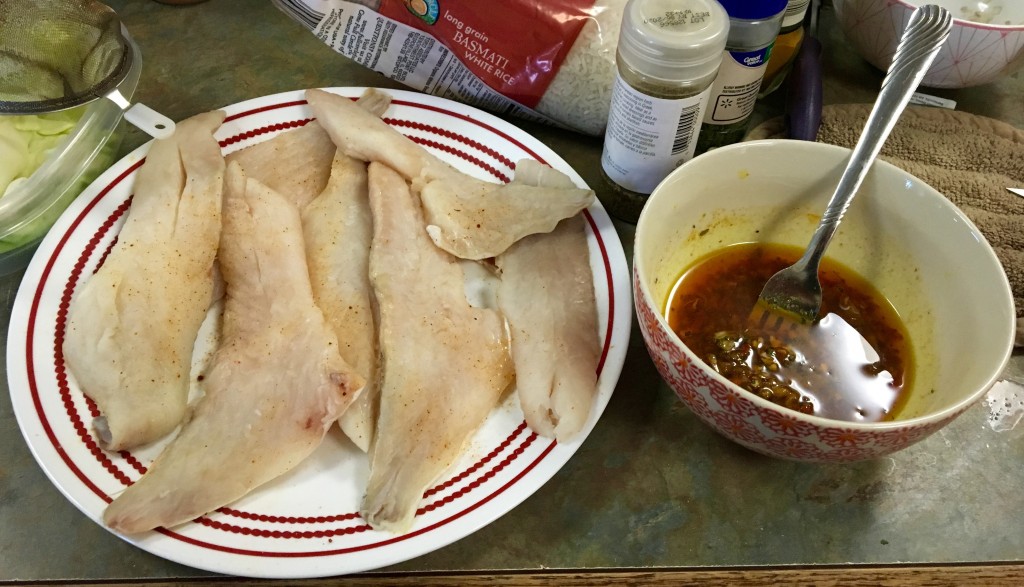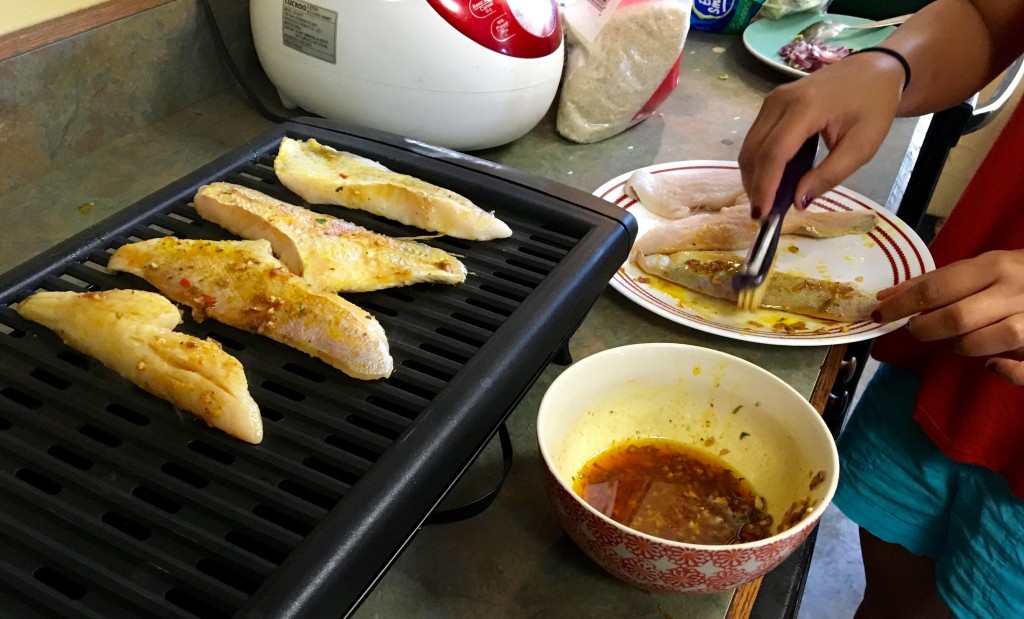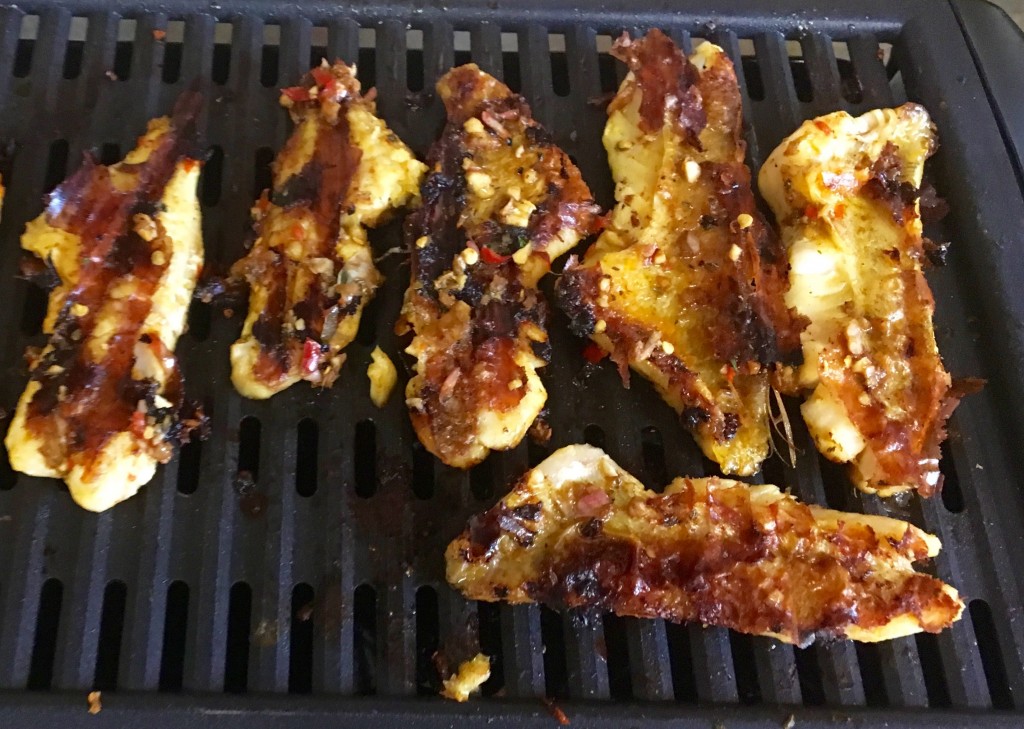 The other main course was my very favorite dish of the night: a work of slow-cooked genius called koto. There's a lot going on here: stewed sausage, pork, kidney beans, carrots, potatoes and pasta, seasoned with ginger and molho – a sauce made from garlic, onion, and tomato, stir-fried in chile oil. It was one of those fantastically flavorful stews that you can't help but love.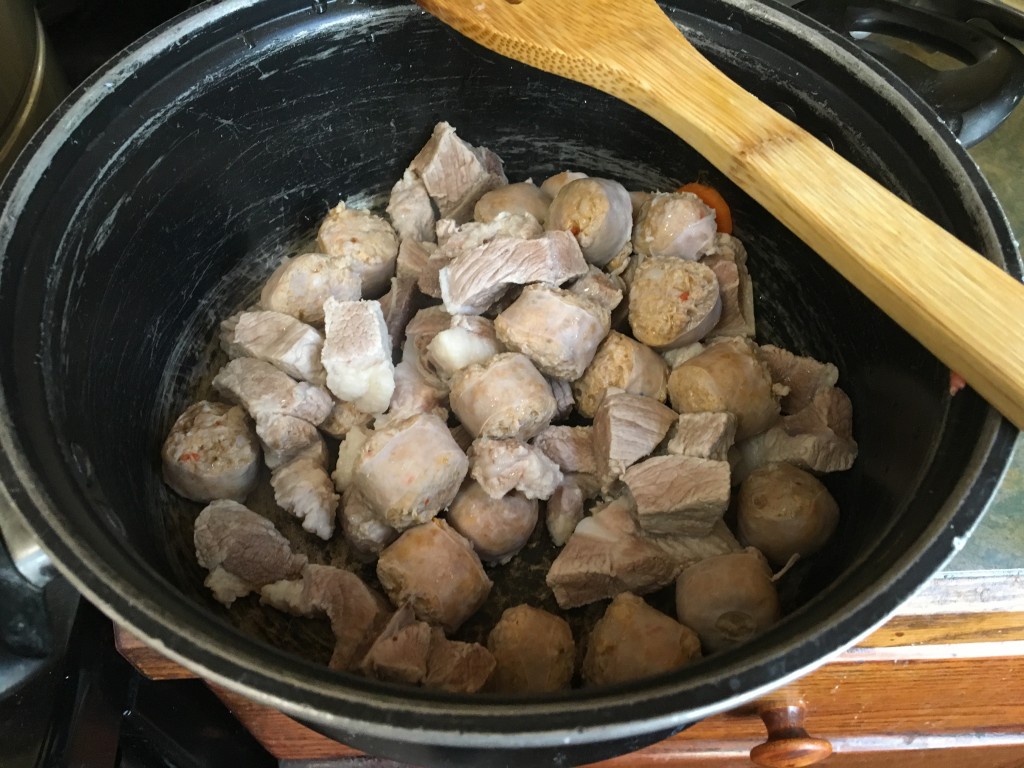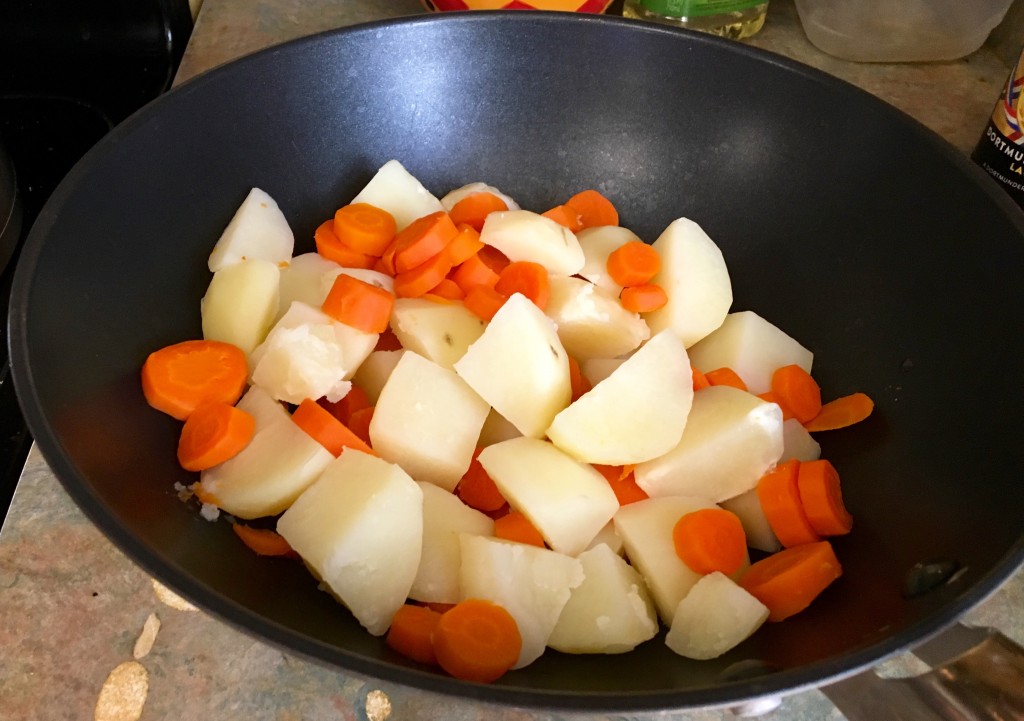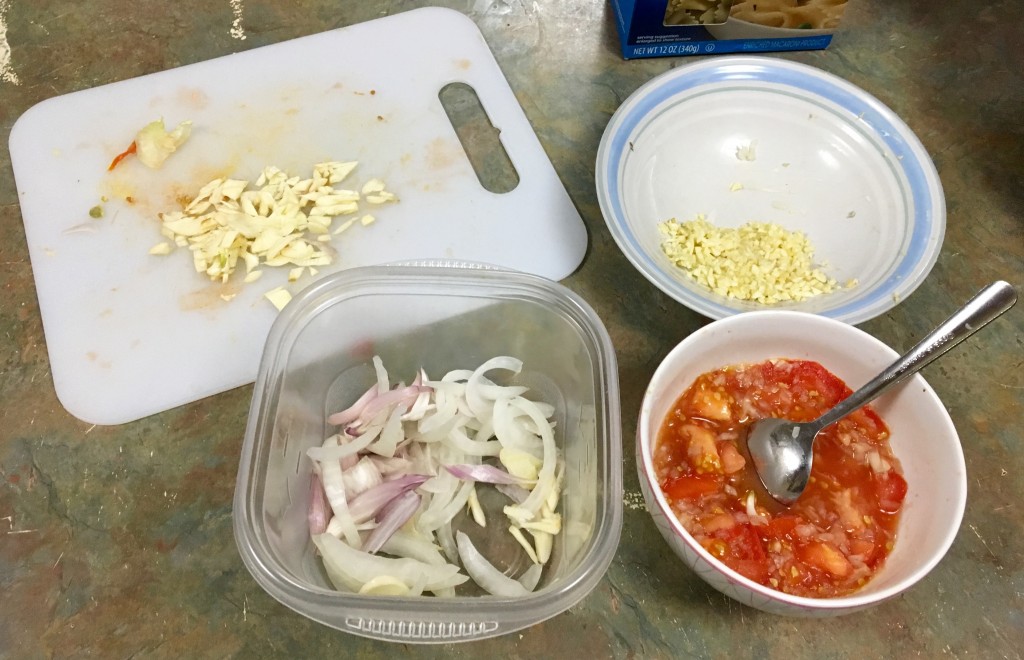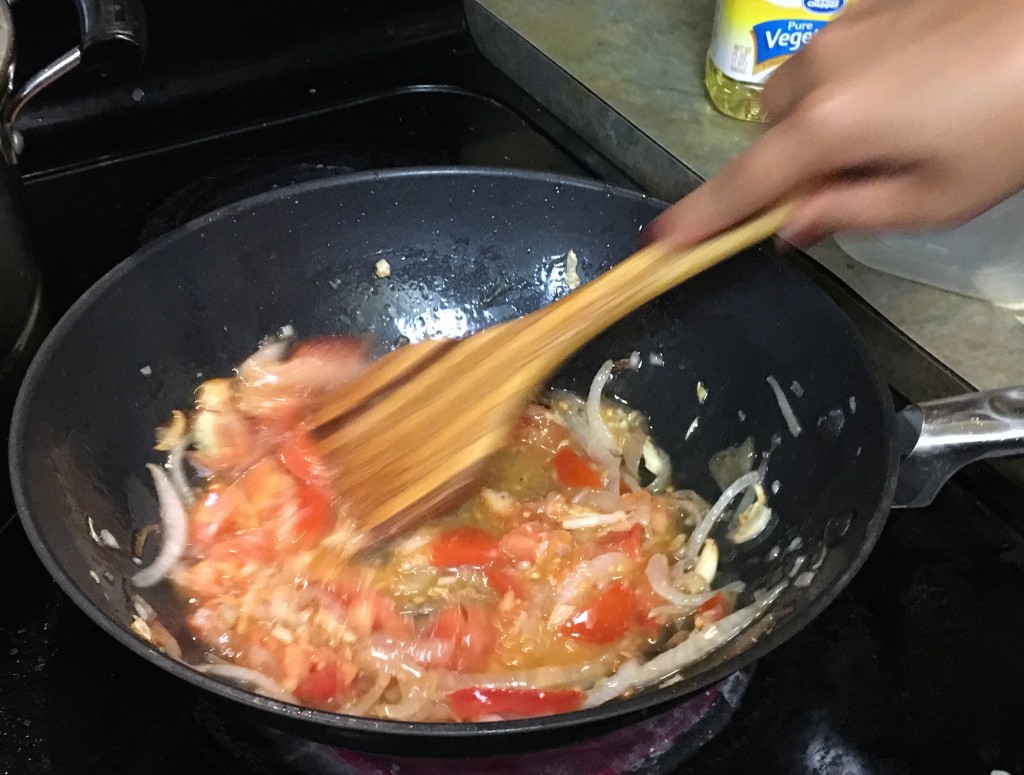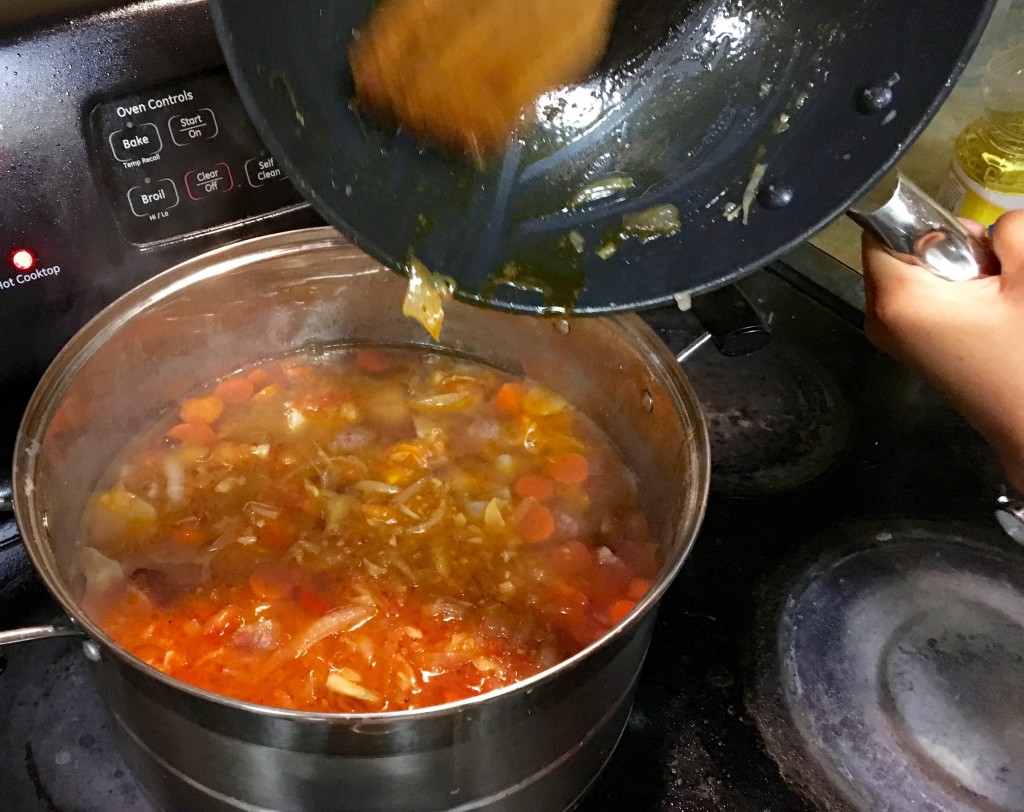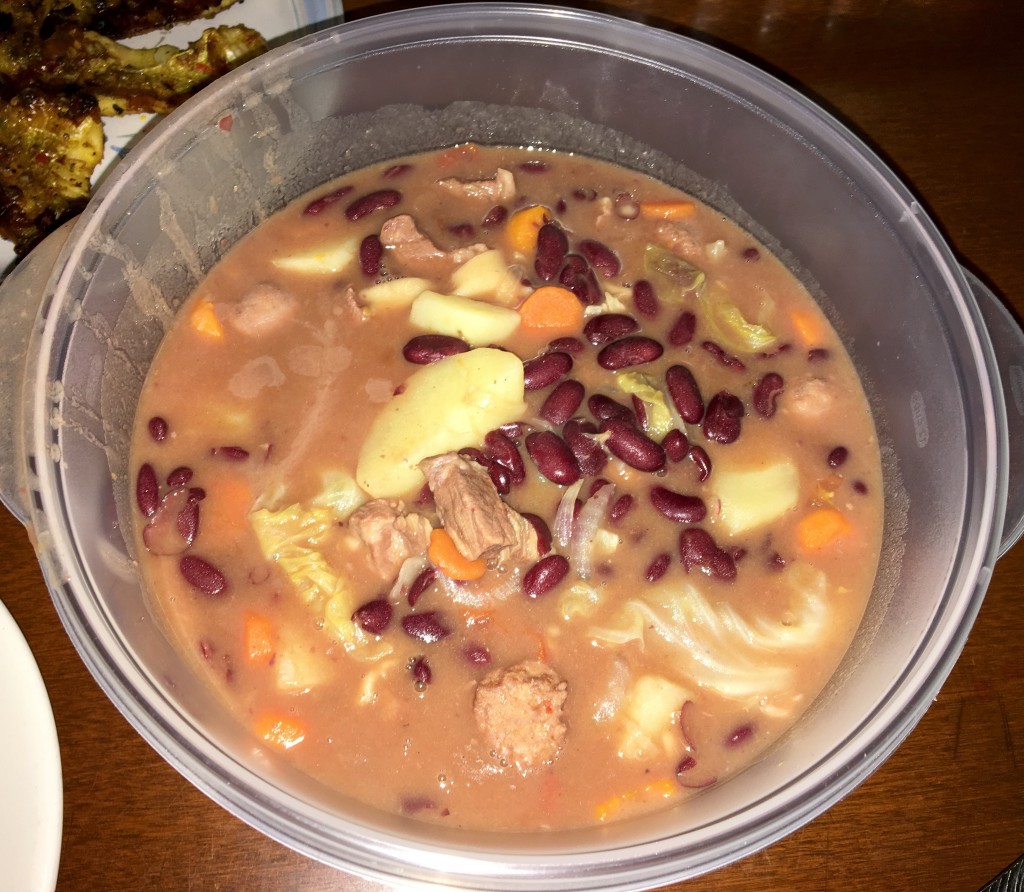 And yeah, I know: this is "just" rice, but it was cooked in coconut water, and then finished in a steamer placed atop the water used to cook some of the koto ingredients. If it was possible to make the koto even tastier, coconut-infused rice will do the trick: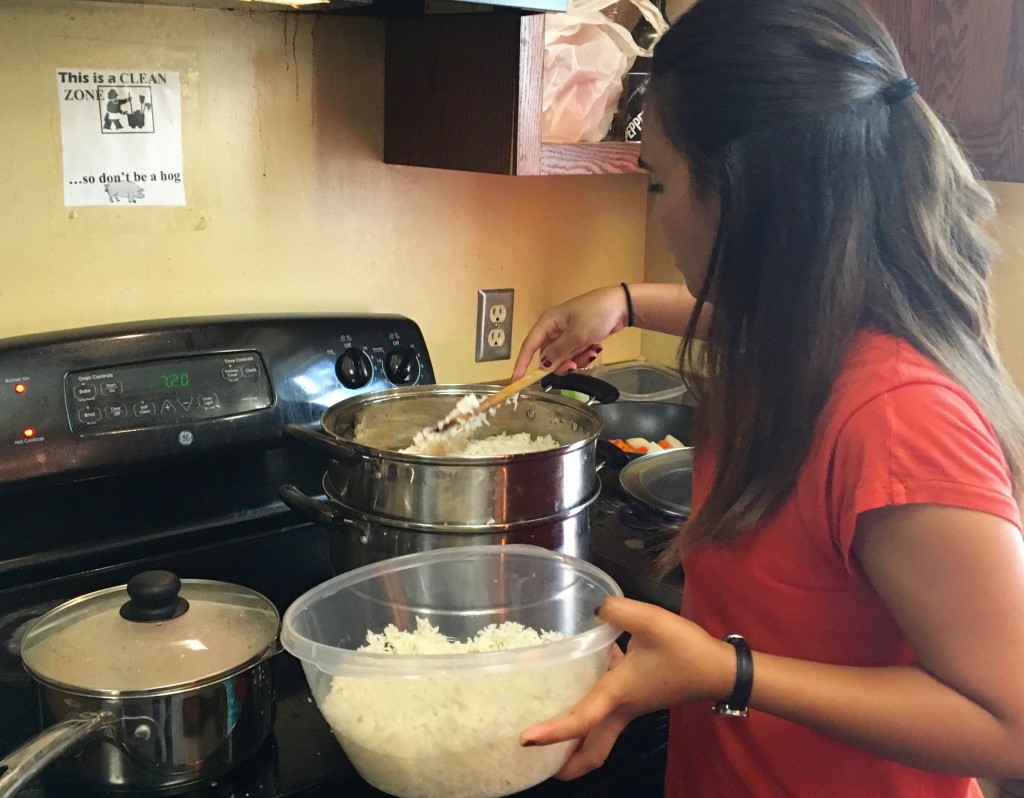 Incidentally, it sounds like amazing things routinely happen to rice in East Timor. Miguel told me about a dish made from lightly fermented rice, wrapped in a banana leaf and char-grilled. It sounds amazing.
Desert was pretty amazing, too. We ate something called pudim, and I'm not sure whether you'd describe it as an incredibly moist, pudding-like cake, or a wonderfully cake-y pudding. Either way, it was delicious – vaguely reminiscent of a top-notch flan, but less jiggly: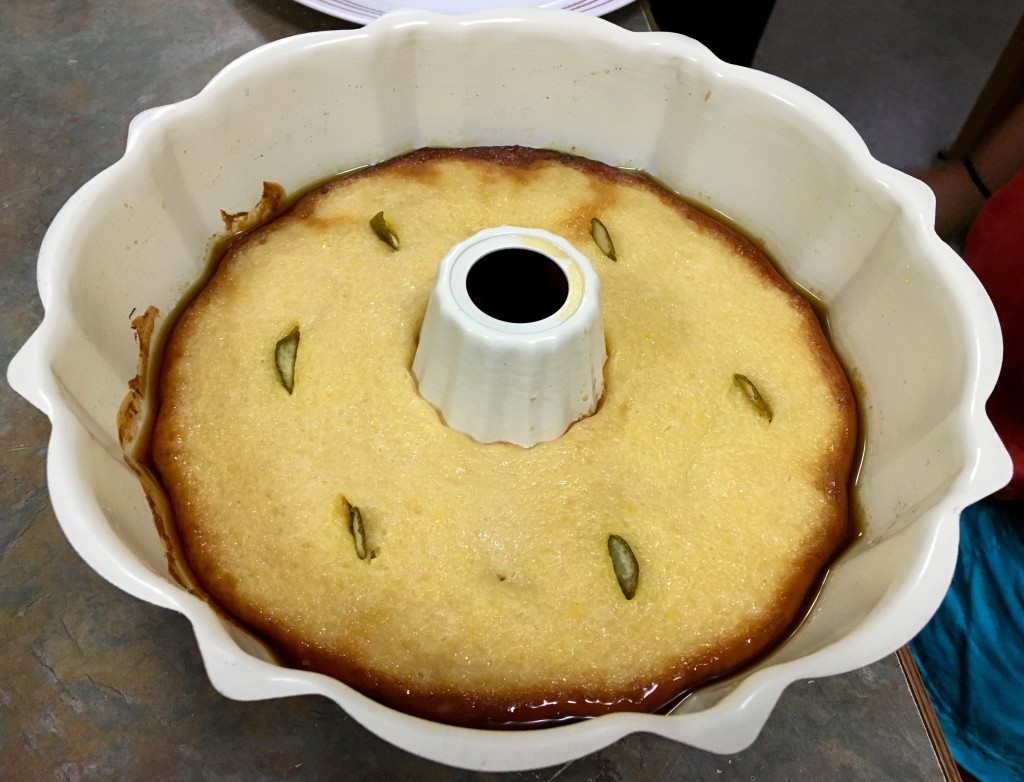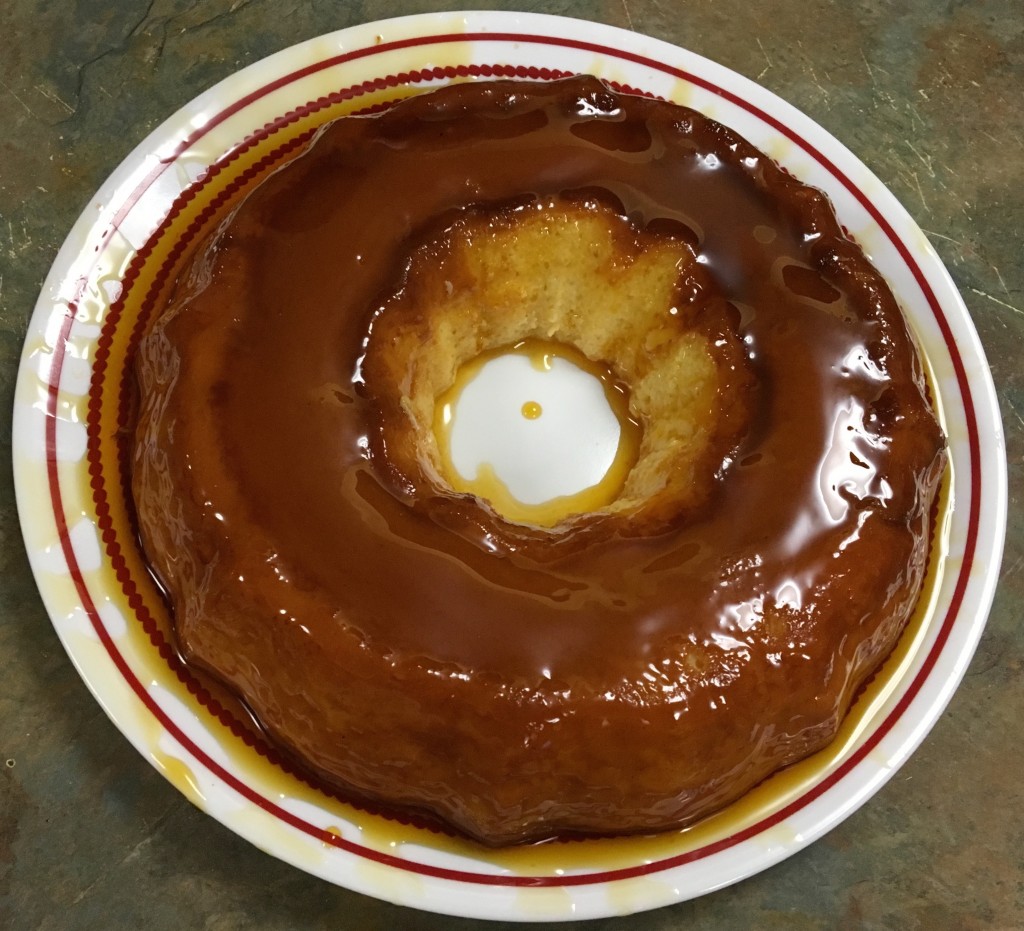 As is often the case these days, the food was great, but the conversation with Jacky, Miguel, and Debby was even more amazing. If you're an American of a certain age, you might remember hearing about the country's long struggle for independence from Indonesia, which lasted from the early 1970s – when Portugal, the previous colonial ruler, stepped aside – until East Timor formally won its independence in 2002.
But I can't remember seeing any mention of East Timor in the American media since then, unfortunately.
And that's a shame, because the place sounds fascinating: it's a country with incredible natural biodiversity – and food and cultural diversity – despite being roughly 1/10 the size of North Carolina. More than 30 different languages are spoken in the country, and this is the source of some fascinating twists in Timorese life: when Debby and Jacky were in high school, the national exams suddenly shifted from Indonesian (spoken by most of the teachers) to Portuguese (the new language of national unity, spoken as a mother tongue by virtually nobody in the country). I'm sure that the students were not terribly thrilled to take those tests, particularly considering that relatively few Timorese speak either of those two languages at home.
This is unimaginable to Americans. Sure, some people in the United States struggle to learn English, but there's no question about what the lingua franca is. In East Timor? It depends on what part of the country you're in and who you're talking to.
Even more fascinating: Miguel and his father have been documenting several of East Timor's regional languages, in an effort to preserve them. Again, this is unimaginable to most Americans, though New York is – quietly – a reservoir of endangered world languages.
But you probably came here for food pictures. So here, have one more: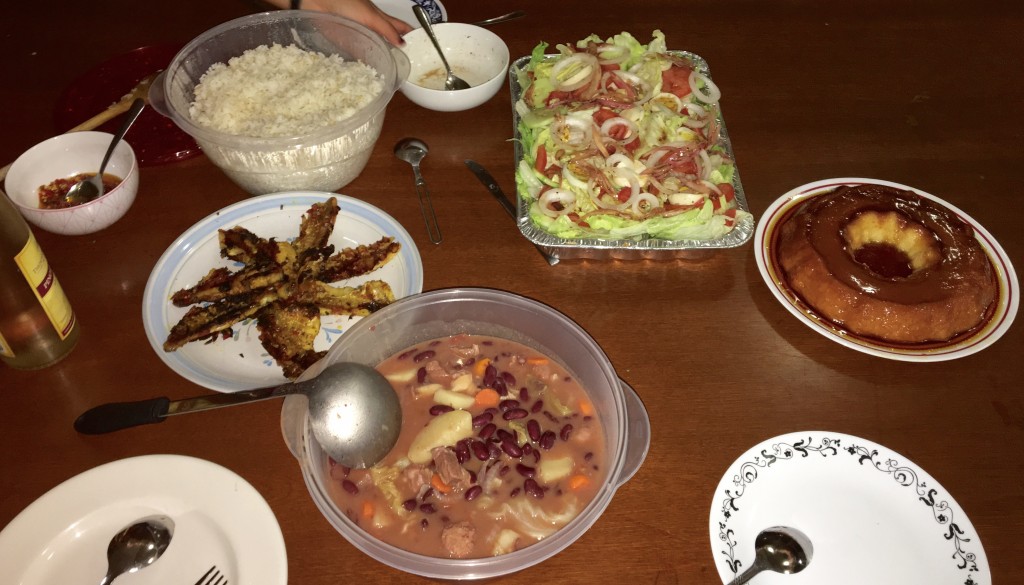 Before I left Canton, I asked Debby if she had any favorite spots in New York City; she replied that she particularly loves the Brooklyn Bridge. So I brought the leftover koto for a glamorous photo shoot on the Brooklyn Bridge.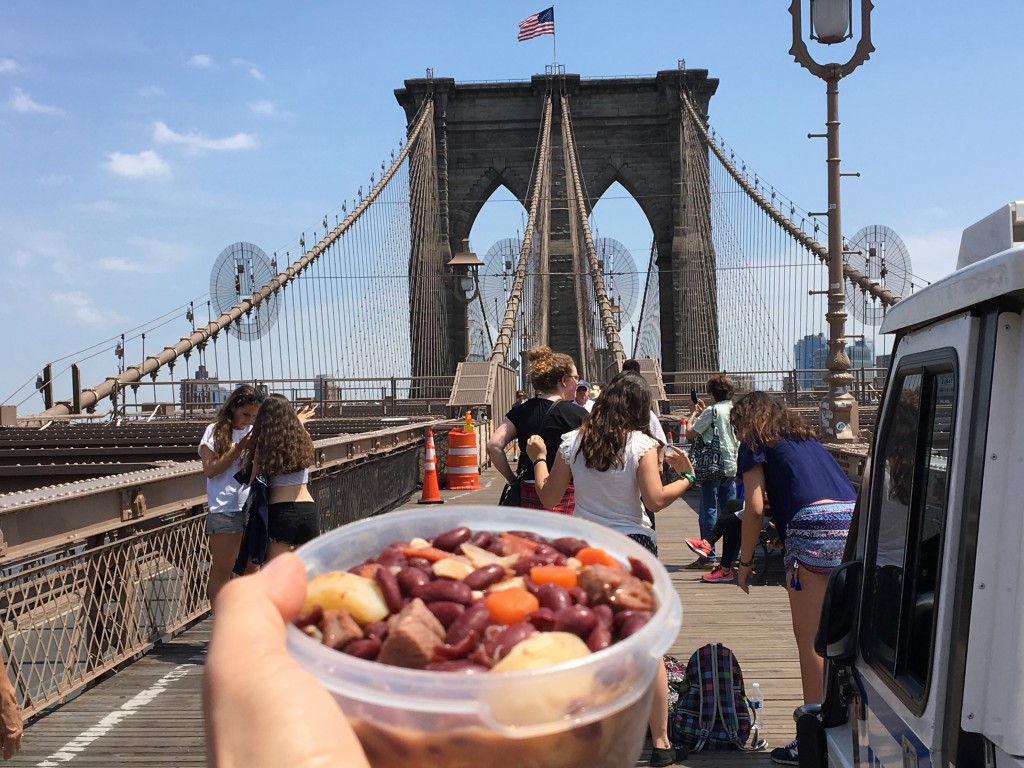 And the koto looked even more dazzling next to the New York City skyline on the south side of the bridge:
So now you know a small international secret: East Timorese food – in any language – is so good that it doubles as a supermodel.
Huge thanks to Debby, Jacky, and Miguel for the amazing meal and conversation. Got questions, complaints, or feedback — or do you just feel like having a conversation about other hard-to-find cuisines? Email me at unitednationsoffood@gmail.com, or connect with me on Twitter, Facebook, or Instagram.