I probably whine about this far too much, but I was just realizing that Amber, love of my life and miner of her own engagement diamond, has accompanied me on exactly six of my first 38 food excursions—seven if you count the time that I brought Chinese dumplings home and slid them under the bedroom door while she was locked in there, studying her little ass off. The moral of the story: law school really sucks, and makes you miss most of the good meals that your future husband eats.
So it was a really nice treat to be able to take her with me to Mustang Thakali Kitchen, a Nepali restaurant in Queens… especially since it was a Monday night, when nothing fun ever usually happens in the life of a law student.
As is often the case, I knew almost nothing about Nepali food before walking into the restaurant. I knew that rice and dal (stewed lentils) and momos (dumplings) are generally considered the national dishes of Nepal, so I figured I should eat some of those. Mustang Thakali Kitchen's menu seemed to really push "traditional Nepali" dishes called thalis (very loose unofficial translation: "shiny round combo platter," inevitably including rice and dal), so we figured that it would be wise to order a couple of those. On the restaurant's list of thalis, there were two options that I'd never heard of—farsee goat thali ($11.95) and ghundruk thali ($9.95)—so of course we ordered them.
I have a feeling that momos, like most other Asian dumplings, range in quality from pretty good to mind-numbingly amazing; Thakali Kitchen's momo soup ($4.75) was merely pretty good, featuring tasty-but-nondescript noodle-y balls stuffed with cabbage, carrots, and chicken, floating in an unremarkable, salty chicken broth. (That last sentence exists only because I wanted an excuse to write the phrase "noodle-y balls.") The soup was a perfectly good start to a chilly late-winter night in NYC, but not, by itself, worth the trip from Midtown to Jackson Heights.
The thalis, however, were fantastic. When we ordered our meals, our Nepali server was apparently amused by our big, goofy grins and horrible pronunciation of Nepali food terms, and generously took the time to educate us when he brought us our meals. Ghundruk, he explained, is a mushroom stew with mung beans, not unlike a mushroom-flavored dal; farsee goat is a pumpkin stew with… well, goat. With his tongue firmly planted in cheek, he then grinned mischievously, and pointed to every single item on our platters: "That's rice. And that's lentil dal. And that's curried cauliflower and potato. And that's a cucumber. And that's a radish. And those are vegetables. And that's a tomato."
Pretty funny. The "vegetables" were mustard greens and squash, braised in a salty brine. When he said "tomato" with an evil glint in his eye, he was pointing to a delicious, fiery red condiment that tasted more like roasted hot peppers than tomatoes. The "radish" was a couple of cubes of daikon, smothered in an even spicier yellow sauce. The "cucumber" was actually a slice of cucumber.
Despite the iffy start with the momo soup, we were unequivocally thrilled with the thalis. Goat, in my humble opinion, can be a little bit hit-or-miss; a bad plate of goat makes me think of a smelly barn, but good goat is delicious. The farsee goat at Mustang Thakali Kitchen was a little bit tough and stringy, but tasted fantastic in its lightly pumpkin-ized sauce. The ghundruk (mushroom stew) and dal (lentils) were surprisingly rich, and had an almost creamy consistency.
For all of the wonderfulness of the goat, dal, and ghundruk, I was particularly crazy about the hot sauce (the one that the server called "tomato") and the fiery pickled daikon—which almost brought my lovely fiancé to tears. The upshot is that it's hard not to love a place that serves so many different spicy bowls of awesomeness on a single, shiny platter… and even harder not to love a place whose servers get a kick out of trying to convince its novice customers that hot sauce is really just a tomato.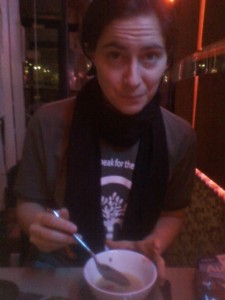 Thakali Kitchen
74-14 37th Ave., Queens
Subway: Roosevelt Ave.-Jackson Heights (7,E,F,M,R trains)