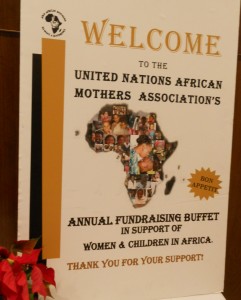 I've always worried that my food quest would fall flat on its (pudgy) face because of Africa. I love good African food, but the continent is home to a crapload of individual countries—54 or so, depending on whose list you're looking at—and there's a relative shortage of African restaurants in NYC. Until now, I've only been able to find food from 12 African nations in NYC. Which means that I need some help.
Thankfully, the wonderfully named United Nations African Mothers Association (UNAMA) hosts an annual fundraising buffet luncheon in Midtown, about two blocks from my apartment. It's arguably NYC's greatest event if you love homemade African food: the wives of African ambassadors prepare food from their countries, and the proceeds from the lunch are donated to Somali refugee camps in Kenya.
So for $35 per person, we gorged ourselves on beautiful African food from 12 different countries AND contributed to a good cause. What could possibly be better?
(And if I may toot my own (bloated, jiggly) horn for a moment: I'm very proud of myself for managing to cram food from all 12 countries onto a single plate. I'm even prouder of myself for managing to return to work afterward, without taking a nap on my way back to the office. Thank you for pretending to be impressed.)
And now… the food highlights, in no particular order:
Benin: a blood-red stew of onions and tomatoes, served atop lovable squares of sticky white rice.
Angola: another red, onion-filled stew, similar to the one from Benin, except that it was served with cou-cou, a corn-based mush which is one of the world's most underrated foods… at least for my corn-loving Iowan taste buds.
Tanzania: a thick stew of carrots, plantains, and beef, served alongside a meaty rice pilaf.
Chad: a delicious but mildly confusing whole salmon, baked with lemon, potatoes, and green beans; some small, buttery cookies from Chad were also on display on the dessert table. Who knew that salmon was the national dish of landlocked Chad?
South Africa: some excellent stewed oxtail, reminiscent of an insanely tender beef steak. Much better than my previous encounter with South African food in NYC.
Sudan: mildly spicy sausages stewed in a tomato-based sauce, accompanied by another meaty variation on rice pilaf.
Mali: chicken stewed in a light glaze of tomatoes and peppers, accompanied by yet still more very tasty rice pilaf.
Equatorial Guinea:  sadly, only a few bits of the tasty beef stew remained by the time we arrived, but the beef stew was served with yet still more additional delicious rice… and some small, sticky yellow balls that resembled miniaturized fufu.
Nigeria: since I've already eaten plenty of excellent Nigerian food in NYC, I tried to focus my attention on the other African dishes… but I couldn't resist the Nigerian beans stewed with peas, potatoes, and corn. Great stuff.
Somalia: sadly, most of the Somali food was gone by the time we arrived; there were some remnants of something that resembled groundnut stew, served with some fantastically creamy stewed beans, which vaguely resembled the Nigerian version.
Senegal: thieboudienne (derived from the Wolof word for "rice and fish") is pretty much God's gift to rice pilaf. UNAMA's version contained cabbage, a whole fish, potatoes, and carrots, all fluffed into some bizarrely light rice. Always a winner.
It might be vaguely jerk-y of me to select a favorite, but the food from Madagascar was worthy of some special love. The beef tongue stewed with peas and carrots was excellent, but the Malagasy cassava leaves were almost life-altering: the leaves were stewed with meat and shredded coconut until most of the moisture was gone, leaving behind a heap of deliciously dry, tender, nutty, airy awesomeness behind. The Malagasy dessert even had a regal-sounding name: banana doughnuts of Madagascar. I felt important just eating them.
The final count: I ate cuisine from nine new African nations, introduced a thoroughly American friend to his first taste of real African food, and contributed a total of $105 to a worthy cause. The three of us ate insanely gluttonous plates of homemade African food… but we couldn't possibly feel too guilty, since our gluttony helped support a great cause. We love you, African Mothers.