As threatened in a crusty old blog post about Australian food, I finally spent a month in Australia.  And for most of the trip, I felt a burning sensation in my ass.  I think it was caused by the fact that money was flying out of my wallet so fast that it created sparks, which singed my anus.
Nothing against Australia, but the exchange rate was not exactly my friend.  Pretty much everything was about 30-40% more expensive than in New York City.  Including the food.  And that makes me unhappy.  Our entire trip was like a money hemorrhoid.
(Incidentally, I'm very proud that I managed to use the word "hemorrhoid" on a food blog.  Do I deserve a cookie?)
So during our trip to Australia, we weren't exactly dining in five-star restaurants… but then again, I never really do that sort of thing, anyway.  But we still managed to have some pretty ridiculously great meals, if not quite as often as in, say, Hawaii.
At an upscale Greek restaurant in Sydney (paid for, thankfully, by an Aussie friend's corporate expense account), we ended our meal with baklava ice cream, featuring layers of pistachios, shredded phyllo, and honey wedged between layers of ice cream.  Here, look at this picture and get jealous:
Since nothing else was terribly affordable, we ate sh*tloads of Aussie pies during our month in Australia, in at least a dozen different flavors:  beef and mushroom pies, cracked pepper pies, apple pies, egg and cheese pies, mashed potato pies, chicken curry pies, vegetable pies, chicken and vegetable pies… well, you get the point.  The cracked pepper (and ground beef) pie from a tiny bakery in Bombala, New South Wales was definitely my favorite, but all of the dozens of pies we ate were pretty decent, and they were—by Australia's cash-hemorrhaging standards—reasonably inexpensive.
Strangely, none of the pies we ate in Australia were quite as good as the brekkie pies at Tuck Shop in New York City, though.  Good job, Tuck Shop:  you made the bakers in your home country look inferior.
Things got a little bit more interesting in the little outback town of Coober Pedy, where pretty much everybody lives underground to escape the heat, and where most of the locals are part-time opal miners.  It's an interesting, dusty place, with a total population of about 1700 residents.  We slept underground.  It was awesome.
In addition to being a fascinating little town, Coober Pedy is home to a restaurant called John's Pizza, which serves some of the best pizza I've eaten outside of Alaska.  Highlights included an emu pizza ($12 for a 9" pizza… not bad) topped with asparagus, Camembert cheese, cranberry sauce, and emu metwurst. John's also serves a smoked kangaroo pizza ($13) with eggplant, peppers, and olives.  The kangaroo just tasted like smoked beef and the emu metwurst just tasted like a mild sausage, but the pizzas were outstanding, with or without the unusual choices of meat.
Here, look at a pair of pizza pictures, and see if you can identify the exotic bush meats: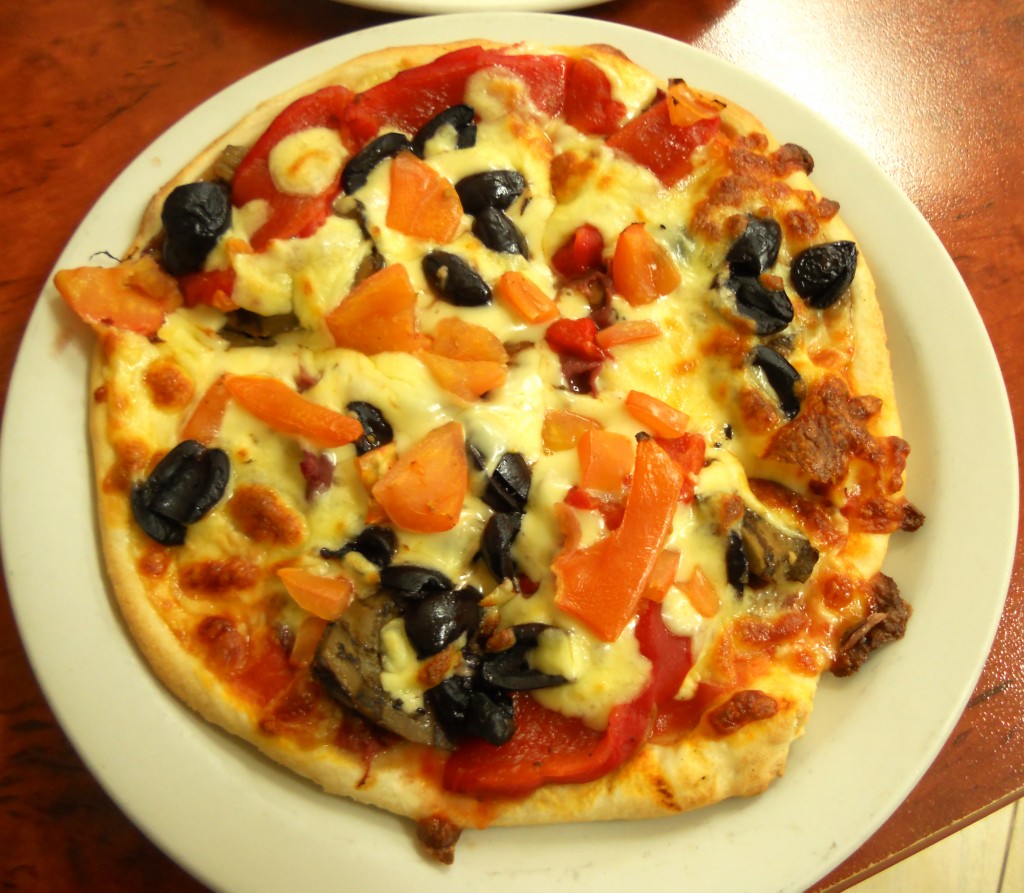 And of course, since Aussies told me that I had to be careful not to get eaten by a crocodile, I thought I should launch a pre-emptive strike, and eat a crocodile before it ate me.  So I did.  Not the whole thing, though—just a burger-sized chunk of crocodile at Litchfield Caravan Park, an hour or two south of Darwin.
Crocodile meat isn't the most glamorous stuff on earth:  it tastes like a cross between chicken, a mild whitefish, and calamari steak.  It doesn't really have much flavor besides a very vague ocean-y taste, and the meat is a little bit rubbery.  I inexplicably really liked it, though it was helped along by a generous dose of beets, a fried egg, Aussie bacon (which resembles Canadian bacon), onion, lettuce, shredded carrots, and ketchup.  But really—I swear that I could taste the vaguely ocean-y meat under all of the toppings, and I could swear that I actually liked it.
My wallet, on the other hand, liked nothing about Australia.  Besides, perhaps, boarding our flight to Singapore, where we would at least be surrounded by cheap frog porridge.