As you can probably tell from my recent blog posts about non-Gambian food, Tunisian food, Kenyan food with an asterisk, and Costa Rican food with another asterisk, I'm starting to struggle a little. I have fewer than two dozen countries left. They're hard.
My latest desperate food-hunting activity: cold-calling United Nations missions, looking for somebody who might be willing to cook. The bad news: nobody answers the phone in most small-country UN missions, and I often get routed back to a cranky American operator at a central UN switchboard. But when I called the Kyrgyz mission, a very nice gentleman answered, and advised me to contact the New York City Kyrgyz Club if I wanted to find Kyrgyz food.
So I did that. Unfortunately, the NYC Kyrgyz Club seems to have vanished into thin air. I sent messages via email and Facebook. No response. When I called the Kyrgyz Club's telephone number, the poor fellow who answered the phone explained that he didn't know anything about Kyrgyzstan and wished that he had a different phone number.
I even tried to attend the Kyrgyz Club's annual Nooruz celebration at 8:00 on a Monday morning, at the iconic Charging Bull statue near Wall Street – which, incidentally, the New York Stock Exchange tried to repress. I went to the bull at the appointed hour, and instead spent two hours munching bagels in a nearby café, eyeballing the bull through the window. Not a Kyrgyz in sight.
So the Kyrgyz Club, sadly, seems to be nothing more than a rumor these days. Fortunately, the nice man at the Kyrgyz UN Mission also recommended that I eat at Nargis Café in Brooklyn. When I gently protested that Nargis Café is owned by people from Uzbekistan, not Kyrgyzstan, he didn't flinch: "Yeah, but the food is pretty much the same," the nice Kyrgyz gentleman responded.
Ironically, this was not the first time that I'd caught a Kyrgyz official with his hand in the proverbial Uzbek cookie jar. Years ago, I met a member of the Kyrgyz United Nations mission at a place called Alladin (not to be confused with Aladdin, a nearby restaurant with a different spelling) that served tasty Uzbek horse meat salad. Sadly, that particular place was wrecked by Hurricane Sandy a few years ago.
Anyway, I did what the nice Kyrgyz man said to do, and I ate at Nargis Café. The food was indeed amazing. We started with a hot loaf of bread (lepeshka) and salad bojon, a fresh eggplant spread with garlic: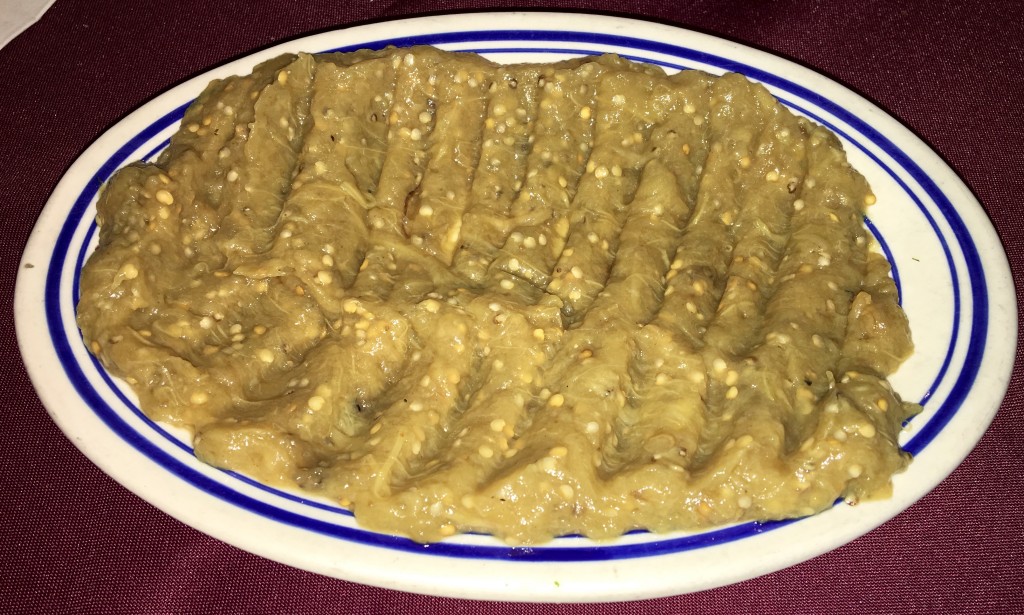 We then ate a couple of different dumpling-like creatures, starting with khonim, consisting of pasta-like dough stuffed with beef, lamb, potatoes, and onions, and served with tomato and yogurt sauce: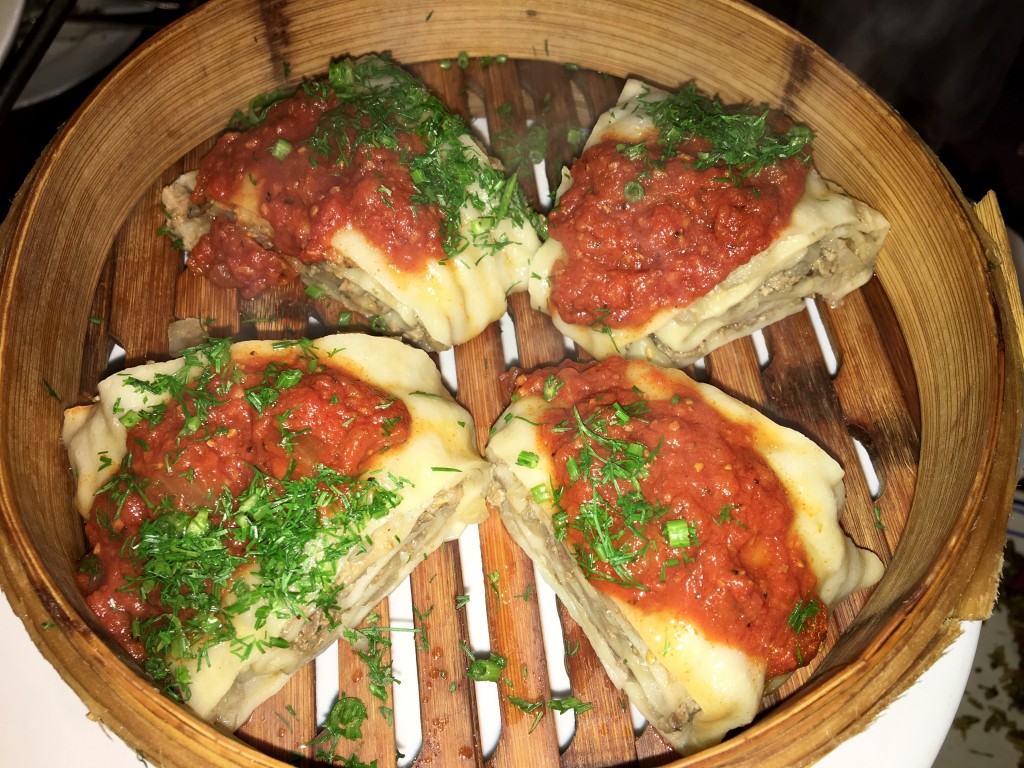 And then there was an excellent and unique version of manti – stuffed with pumpkin, of all things: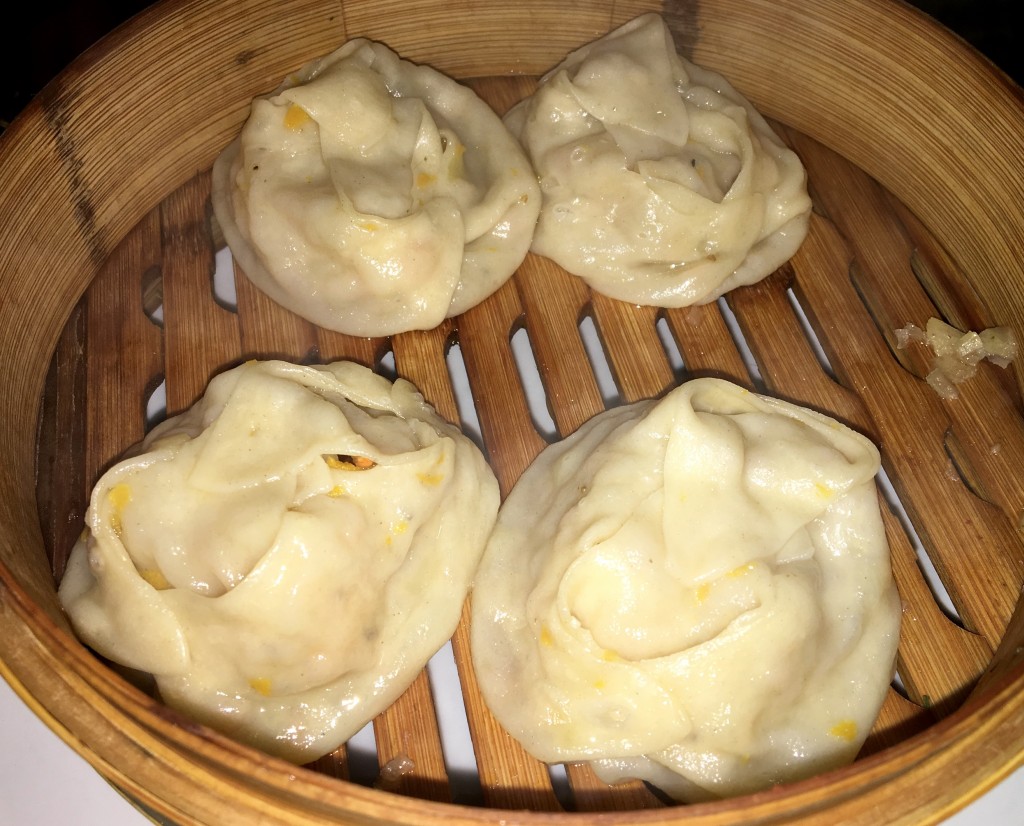 Here's lagman stew, made from vegetables and meat in a nice, beefy broth, with plenty of dill and other herbs: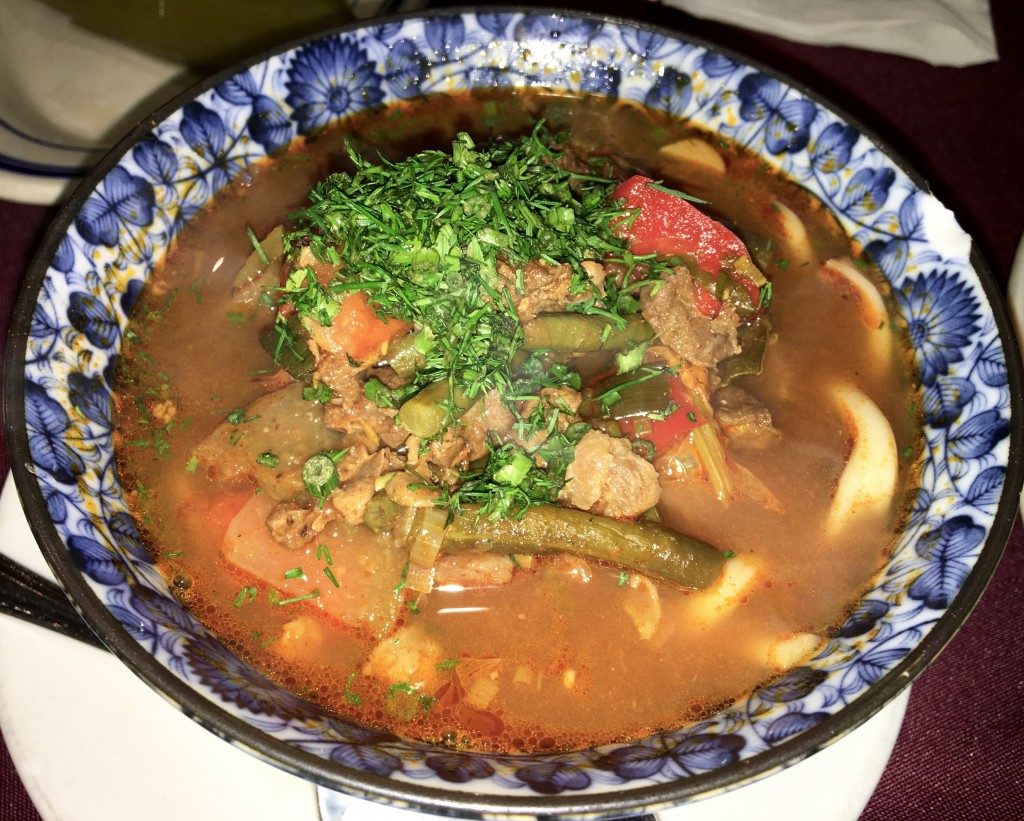 And my very favorite dish of the day was bhash, translated on the menu as "green plov." I've never met a plate of central Asian plov I didn't like, and I've even eaten it from Ziploc bags on random street corners. But this version was particularly special. The description on the menu was both amusing and accurate: "diced lamb, chicken and liver, and good amount of mixed herbs, very tasty."
So yeah, the fellow at the Kyrgyz UN mission was completely correct: Nargis Café is pretty badass.
But here's my dirty little secret: I ate legit Kyrgyz food in Brooklyn a long time ago. I just never wrote about it.
For a hot second several years ago, there was a restaurant in Brooklyn – not too far from Nargis Café – named Café Avat, with a Kyrgyz chef. I ate there, took photos, then forgot about the whole thing. Apparently, the brain cells tasked with remembering the event were killed in another tragic bourbon accident.
I figured that it was no big deal if I didn't write about it right away, because it's not like the restaurant would vanish into thin air or anything. I mean, I could always go back and eat another meal there…
Oh wait. Yeah, that place did vanish into thin air. But the food was pretty good. Hey, look – kabobs and pickles!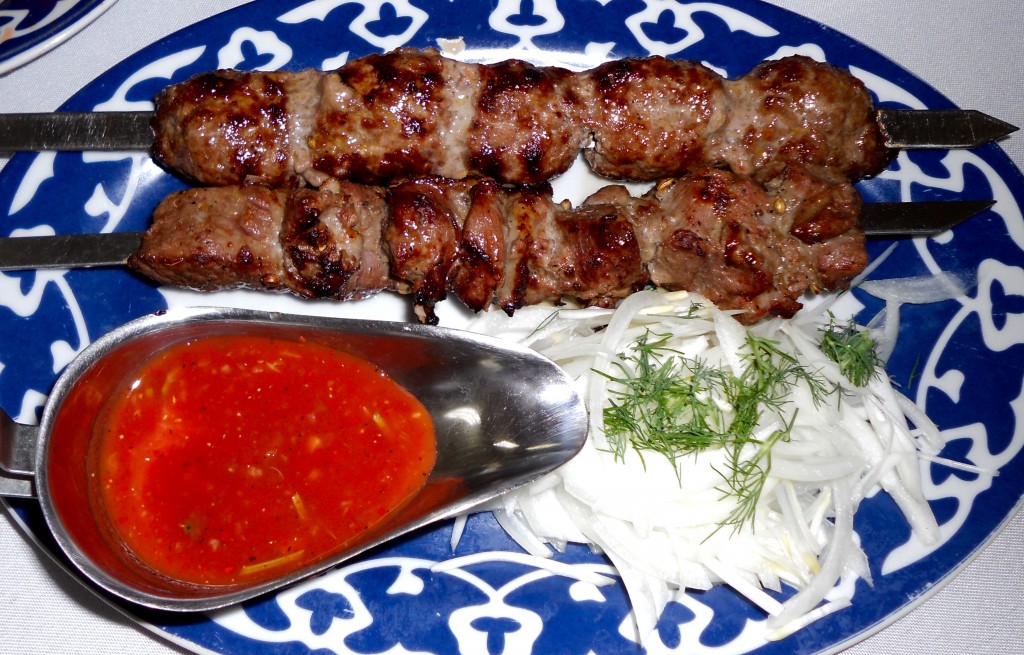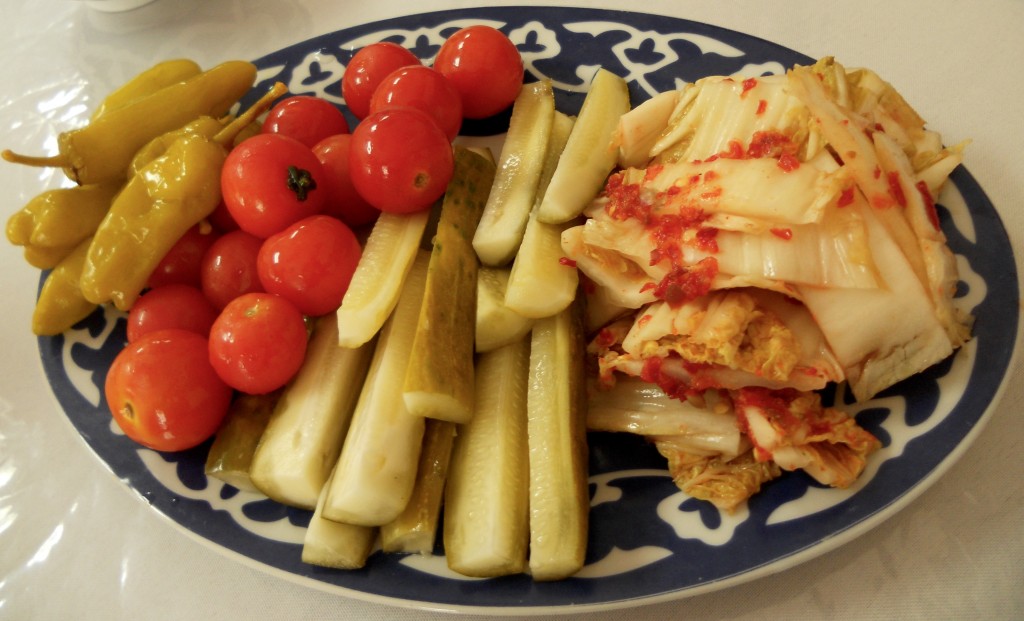 And this one here is hanim – very similar to Nargis Café's dumpling-like khonim, but stuffed only with shredded potato, and served with a tomato sauce: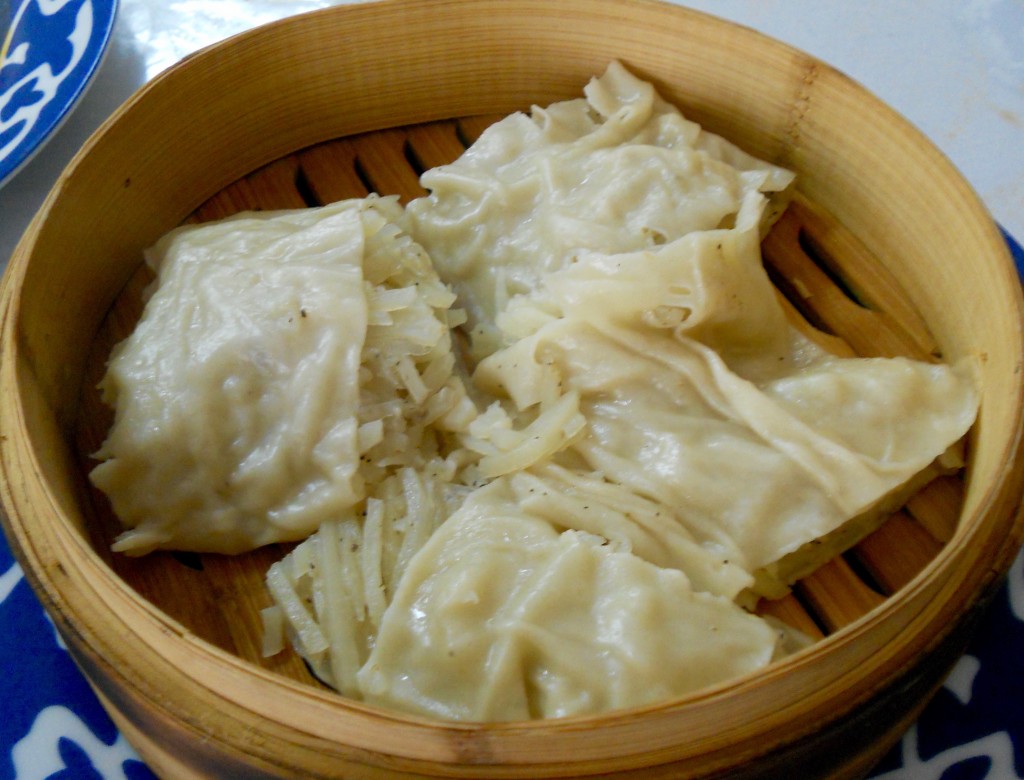 My favorite dish of the day was probably the pleasantly beefy and garlicky gan-fan, which is similar to the lagman stew that's popular throughout the region, except that gan-fan is served atop rice, instead of in a noodle soup: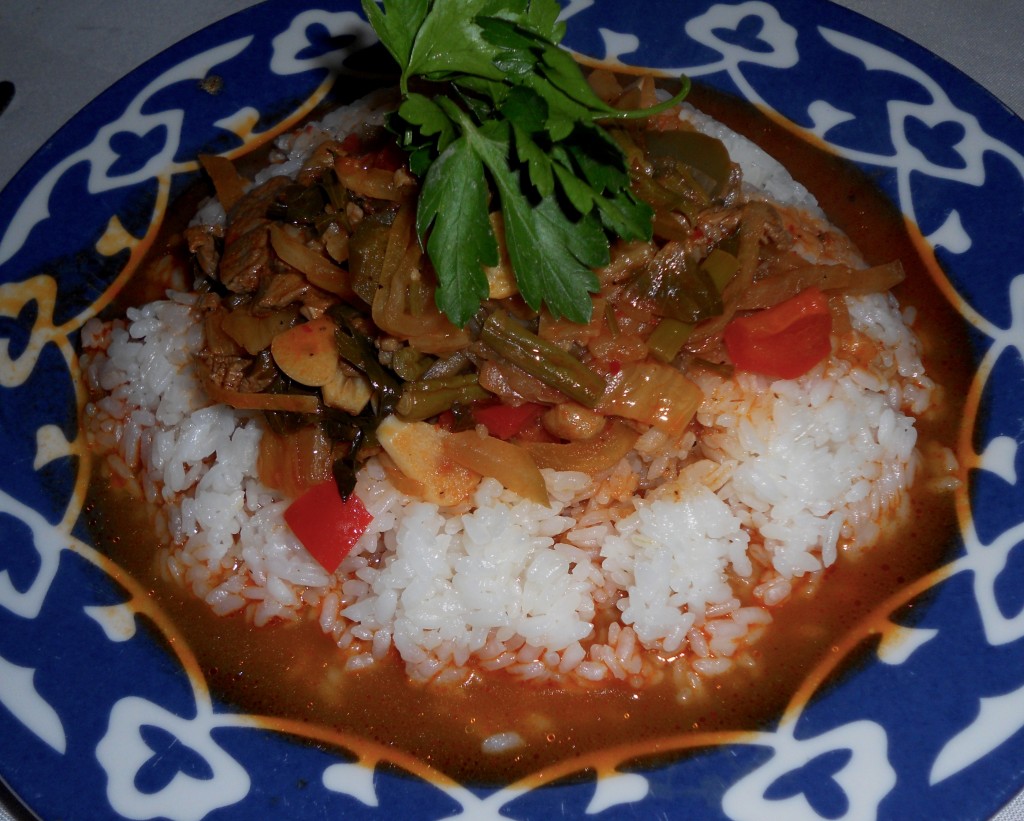 And finally, there was the ashlam-fu, a cold cucumber, tomato, and noodle salad, topped with a red-pepper sauce and served with an interesting twist: totally non-photogenic slabs of bright-white mung bean jello. Fascinating, and unlike anything else I've ever seen in a salad:
So yeah, I've had Kyrgyz food, prepared by a Kyrgyz chef in New York City. You can't have any though, because I'm a crappy food blogger, and the restaurant is long gone.
But there's nothing wrong with doing what the Kyrgyz diplomats tell you to do: just go to Nargis Café, and order something with lots of green herbs in it. I suppose that it's much easier than hanging out with an angry bull statue, hoping that Kyrgyz food will magically appear.
Nargis Cafe
2818 Coney Island Avenue, Brooklyn
Subway: Sheepshead Bay (B, Q trains)
Know of anyplace that still serves Kyrgyz food? Any idea where Cafe Avat's Kyrgyz chef might be working now? Want to help me find other hard-to-find cuisines? Email me at unitednationsoffood@gmail.com, or find me on Twitter (@UNofFoodNYC) or Facebook. If you find me something blog-worthy, I promise not to be a slow lazy starchy ball of soggy calories, and I'll actually write the post before the place closes down next time.