My mission: to eat (reasonably) authentic cuisine from every country in the world (168 countries), without leaving New York City.
Countries are generally included only if the population is over 1,000,000; a native of the country must be involved in the food preparation. Meals prepared in NYC restaurants, food trucks, churches, mosques, and private homes (hint, hint) all count.
To learn more about the United Nations of Food NYC blog, click here.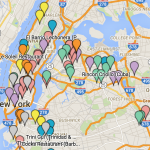 I'm struggling to find food from 25 or 30 of the most obscure nations. If you have any ideas or charming friends who might be willing to prepare a meal, please contact me at unitednationsoffood@gmail.com, or click here for a complete list of hard-to-find cuisines in NYC.
For fattening, spam-free food blog posts in your inbox, enter your email address at the bottom of the page.
Twitter: @UNofFoodNYC
Email: unitednationsoffood@gmail.com