My mission: to eat (reasonably) authentic cuisine from every country in the world (170 countries), without leaving New York City.
To learn more about the United Nations of Food NYC quest, click here.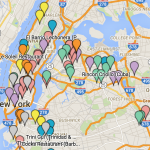 I'm struggling to find food from 15 or 20 of the most obscure nations. If you have any ideas — or charming friends who might be willing to prepare a meal — please contact me at unitednationsoffood@gmail.com, or click here for a complete list of hard-to-find cuisines in NYC.
For fattening, spam-free food blog posts in your inbox, enter your email address at the bottom of the page.
Twitter: @UNofFoodNYC
Email: unitednationsoffood@gmail.com