According to potentially unreliable internet sources, there are 64 McDonald's restaurants, 27 Subway restaurants, and at least 15 Starbucks outlets in Hawaii.  I don't mean to be cruel to America's favorite chain restaurants–I am, after all, apparently enough of a McDonald's expert to be cited as reference #58 on a Wikipedia article about McDonald's.  But there's something particularly sad about the proliferation of crappy chain food in Hawaii, because Hawaiian food is effing amazing.
Why didn't anybody tell me about Hawaiian food before we went to Hawaii?  Almost every American I've ever met has been to Hawaii, and the only thing anybody ever mentioned was some bullpoop about Spam sushi.  And my mom couldn't stop talking about some delicious-looking fried doughnuts called malasadas, which are actually of Portuguese origin.  But nobody ever told me about poke or lau lau or chicken long rice. WTF?
Apparently, tourists in Hawaii are too busy eating Big Macs to even notice that Hawaii has its own cuisine.  It makes me sad that McDonald's seems to massively outnumber Hawaiian restaurants, especially near touristy areas like Waikiki.  Really, would you rather eat some fish prepared by a smiling Hawaiian, or would you prefer to eat a boxed meal served by this creepy dude?
Anyway, we managed to dodge the millions of Happy Meal-munching tourists at Waikiki, and we headed up to a small North Shore town called Hauula, where we rented an awesome little studio from a really nice Hawaiian family.  They fed me a ripe papaya straight from the tree in their yard ("grown with aloha"), and that means that I'll love them forever.
And if that wasn't enough, our Hawaiian hosts kindly sent me across the street to a place called Papa Ole's Kitchen, where I ate an amazing dish called pastele stew, made from shredded pork, olives, and Hawaiian chili peppers, and served with two large mounds of rice and some (tasty, but totally unnecessary) cole slaw.  Really, the world needs more dishes made from pork, olives, and Hawaiian chili peppers:
After Papa Ole's whet our Hawaiian food appetites, we decided that we needed to try lau lau and poi, so we found a deli in Kaneohe called Masa & Joyce that serves a "Hawaiian plate." For a mere $11.50, our new Hawaiian friends fed us lau lau (spiced shredded pork, cooked in some lily-like greens called ti leaves), chicken long rice, white rice, lomi lomi salmon, and a dessert called haupia.  The lomi lomi salmon was basically a fishy version of pico de gallo, but the chicken long rice was an absolute revelation.  It's like the best chicken soup ever, but with cute clear noodles instead.
Our $11.50 meal also came with a dessert called haupia–it's sort of like a chewy coconut jello cake, except that it's actually really good. We also felt obligated to try poi, a Hawaiian staple made from mashed taro root.  It wasn't really my thing–it's a glutinous, flavorless purple glob, served slightly chilled–but I can see how it might go well with lau lau if you've developed a taste for the stuff.
And then, we discovered the awesomeness of Hawaiian poke (pronounced "POKE-eh").  It's basically Hawaii's answer to ceviche, made from raw fish or squid or octopus or seaweed or even edamame, soaked in any of a number of soy-, chili-, garlic-, algae-, seaweed-, or citrus-based marinades.
Very few restaurants on Oahu's North Shore serve the stuff, so we raided a Foodland grocery store for soy-garlic edamame poke, a wonderfully tender imitation crab poke with marinated onions, and some fantastic ahi limu poke, made from ahi tuna marinated in soy sauce, garlic, chili flakes, and a type of Hawaiian algae called limu.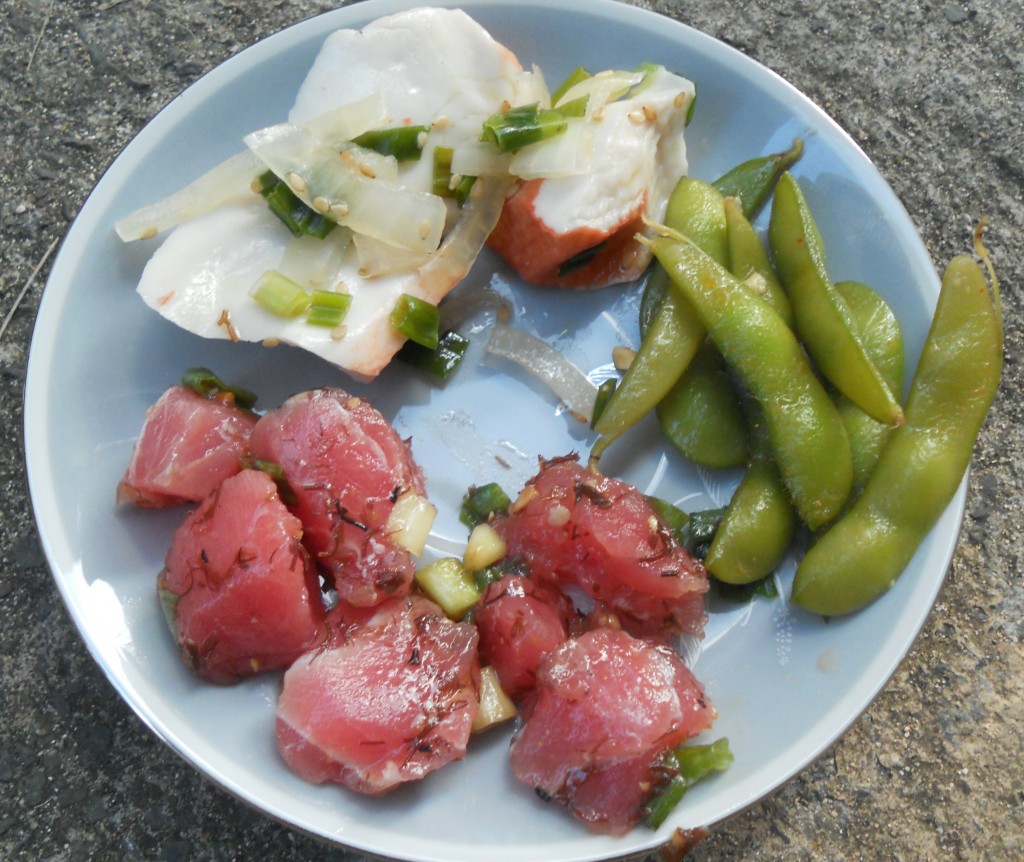 For our final breakfast in Hawaii, we returned to our friends at Papa Ole's Kitchen, and tried the loco moco ($9.25):  two big scoops of rice, a massive (easily ¾ of a pound) hamburger patty, and three fried eggs, all topped with a wonderfully salty beef gravy.  I'm pretty sure that "loco moco" is Hawaiian for "holy shit you crazy little white dude, you're going to eat this whole thing?!?"
I ate the whole thing, with the exception of a few stray bits of rice and burger.  And that was just breakfast.  My dreams of fitting into my bikini were completely ruined, but at least I was happy, and had avoided the ubiquitous Hawaiian Egg McMuffin during our trip.
Papa Ole's Kitchen
54-316 Kamehameha Hwy
Hauula, HI (yes, tourists: you can take a bus there)
Masa & Joyce
45-582 Kamehameha Hwy
Kaneohe, HI 96744