You wanna know why I like Germany? Germans have a deep respect for history. In Frankfurt, for example, there are magnificent statues of the city's greatest historical figures, including this guy:
More importantly, German pigs seem to be unusually delicious. I'll be honest: growing up in the Midwest, I frequently ate my face full of bratwurst, which was always good, but never blew me away. But there's something special about the sausage in Germany. I don't know what it is: maybe the pigs are tastier because they drink really good beer, or maybe German sausage-making skill was somehow diluted when German immigrants voyaged to the Midwest? I don't know.
But a few days in Germany reminded me that sausage, done right, is pretty effing great.
On our way to Namibia, we passed through Frankfurt for 24 hours, and later stopped in Munich on our way home. During our Frankfurt layover, the city's Christmas market was in full swing: basically, the city center turns into a giant, chilly street party, filled with people eating sausage and drinking hot mugs of glühwein, a potent mulled wine seasoned with clove, cinnamon, orange zest, and sugar.
Interestingly, a few of the glühwein sellers also offered hot caipirinhas. In case you've never had a caipirinha: it's a Brazilian treat made from pounded limes, sugar, and a sugar-cane liquor called cachaça. Brazilians who love drinking caipirinhas on the beach would probably roll over in their graves if they saw a hot version – even if they're not dead yet. But the hot caipirinhas were actually really appealing, sort of like a nice, citrusy tea – if tea could install an epic hangover.
But the best part of our (overly brief) time in Germany, other than our phenomenally lovable friend in Munich? Pig. I still can't quite explain what made the bratwurst better than the stuff I grew up with in the Midwest. The flavors were subtler, somehow, and the fire-grilled meat was served on freshly baked rolls, instead of often-vapid American hot dog buns. (German baked goods, incidentally, are universally incredible, but rarely seem to receive much attention internationally. I don't get it.) In Munich, I fell in love with onion- and parsley-flecked weisswurst (literally, "white sausage"); my lovely wife couldn't stop eating currywurst, made from slices of grilled bratwurst, topped with ketchup and curry powder – which is much, much tastier than it may sound if you're not a sausage or ketchup fan.
Since fire, pig, and Germans are clearly a winning combination, I immediately started searching for great German food when I returned to New York. I've had a fair amount of decent German food here. But after eating such wonderful pig in Germany, I figured that there had to be something even better somewhere in the city.
So I finally made the trek out to Zum Stammtisch, a much-beloved Bavarian restaurant in Glendale, Queens, just to see if the pig magic survived the trip across the Atlantic. For the most part, it did. But just because I used to be terrified of herring and feel obligated to continually practice my herring-eating skills, we didn't start with pig, and instead started with a Bavarian herring salad, featuring beets, potatoes, pickles, tomatoes, and boiled eggs. It was not terrifying.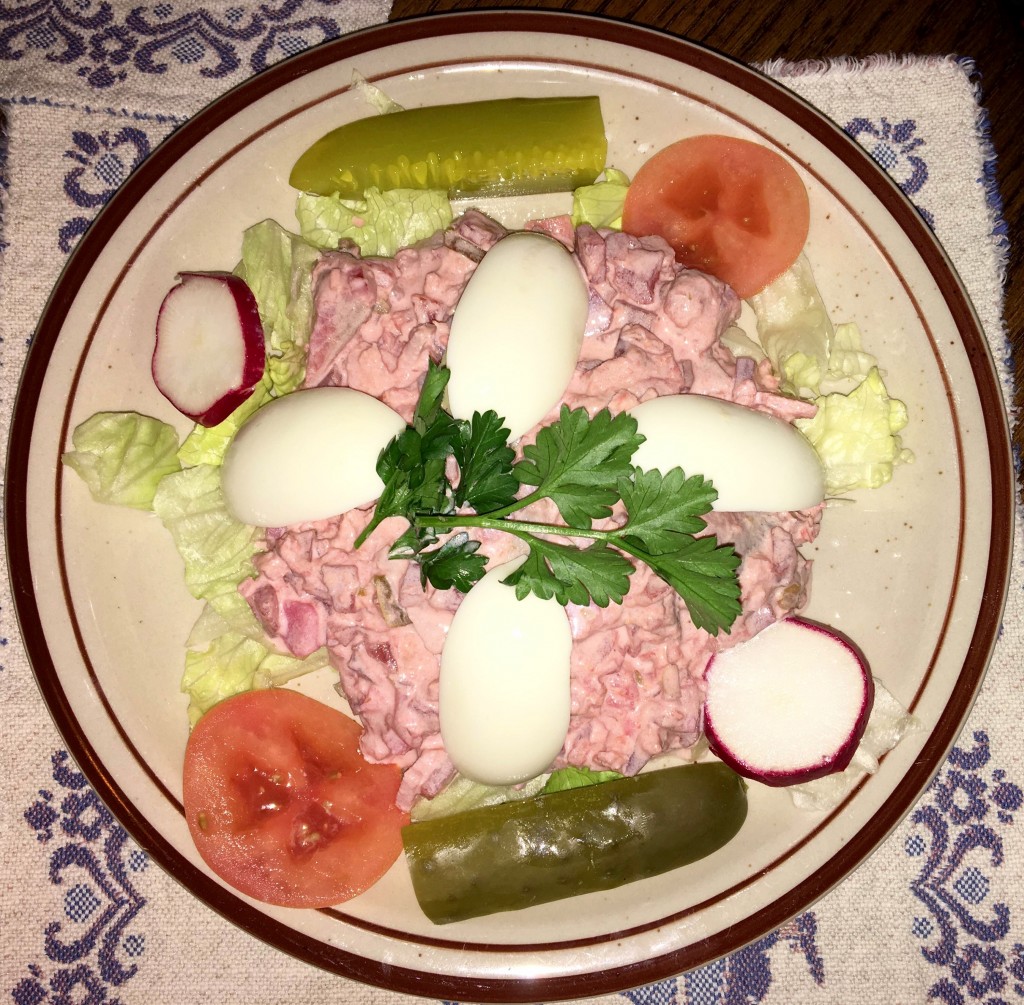 For his main course, my dining companion, a charming documentary filmmaker of German descent who never eats German food, opted for bratwurst and knockwurst (a smoked pork sausage), served atop an epic mount of gently vinegar-y German potato salad and sauerkraut. And yup, both sausages tasted much like the lovely stuff we ate in Germany, other than the fact that it was missing the fire-induced char we enjoyed at the outdoor festivals. But the German sausage-making magic was intact.
Of course, I had to order something that sounded awful, figuring that it would be delicious, interesting, or both. I chose leberkäse – which our dirndl-clad (non-German) waitress described as "German bologna" – but only because it was topped with a fried egg and anchovies. Eggs and anchovies?! On "German bologna"? Sign me up.
To be fair, leberkäse does indeed resemble bologna, but it's a relatively classy bologna, served at Zum Stammtisch as a lightly-charred steak that must have weighed at least a pound. And a fried egg always makes sense as a condiment. But an anchovy…?!
It was actually delicious. I'm not joking. I didn't know that leberkäse needed a nice strip of intensely salty preserved fish to bring out the best of its porky flavor, but apparently it does. I never thought I'd say this, but I totally wanted more anchovy with my German bologna.
And in case you're wondering how leberkäse and other delicious German pork products are made, our friends in Frankfurt produced this how-to illustration in pink marzipan: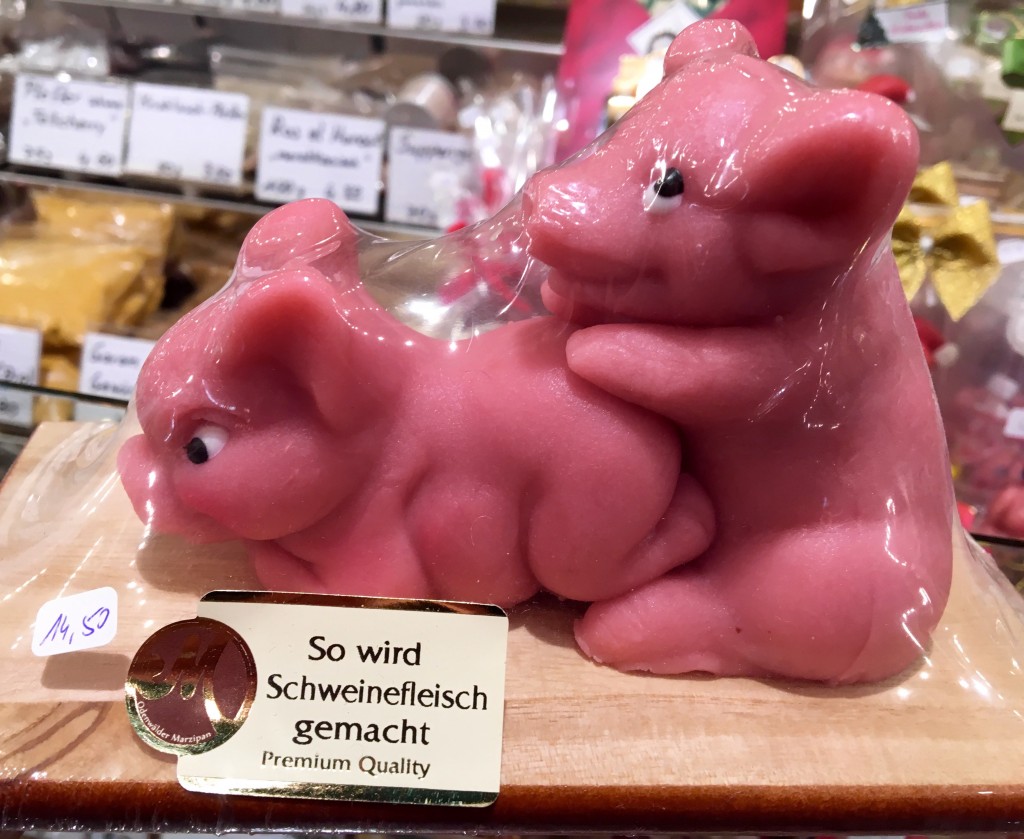 Zum Stammtisch
69-46 Myrtle Avenue, Glendale, Queens
Subway: Fresh Pond Road (M train)